Trump Calls Kellyanne's Husband 'Total Loser,' George Conway Fires Back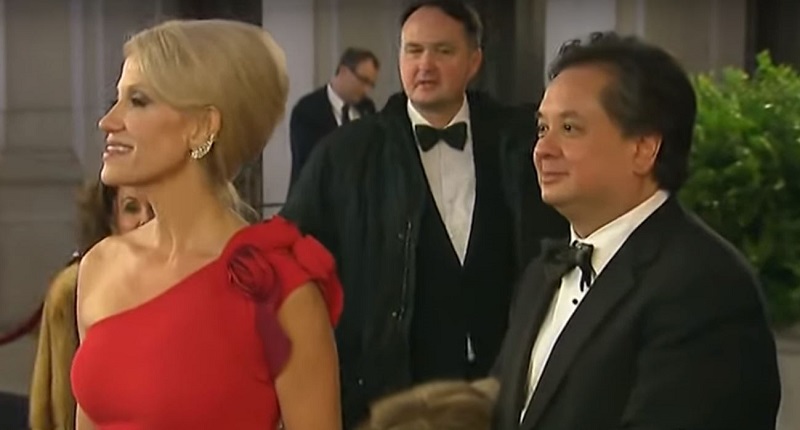 George Conway, husband to Trump presidential counselor and least funny performer at Open Mic Night Kellyanne Conway, has spent the last few days in a Twitter war with Donald Trump. Which must make things awkward for his wife around the White House Keurig machine.
Conway has long been a critic of Trump, often commenting on the president's actions through his Twitter account. Over the last few days, he seems to have escalated his attacks, tweeting out articles questioning the president's mental health complete with screenshots from the Diagnostic and Statistical Manual of Mental Disorders describing Narcissistic Personality Disorder:
— George Conway (@gtconway3d) March 18, 2019
As if that was not plain enough, he has also told the country that perhaps it should be worried about the president's mental health:
Agree with this, but would add that *all* Americans should be thinking seriously *now* about Trump's mental condition and psychological state, including and especially the media, Congress—and the Vice President and Cabinet. https://t.co/OoxgLJpltE

— George Conway (@gtconway3d) March 18, 2019
Monday night, Trump's campaign manager for next year's election jumped in to defend his boss:
We all know that @realDonaldTrump turned down Mr. Kellyanne Conway for a job he desperately wanted. He barely worked @TheJusticeDept and was either fired/quit, didn't want the scrutiny? Now he hurts his wife because he is jealous of her success. POTUS doesn't even know him!

— Brad Parscale (@parscale) March 19, 2019
Which led Trump, on Tuesday, to add his own two cents:
A total loser! https://t.co/vm3Vv2f9jf

— Donald J. Trump (@realDonaldTrump) March 19, 2019
For her part, Kellyanne Conway told reporters camped out in the White House driveway Monday morning that she does not share her husband's assessment of the president, and that she hadn't seen all of George's tweets because she had been too busy that morning getting their four kids off to school. Ouch.
There is a lot that is problematic with all of this. It is problematic for a lawyer to publicly diagnose another person's mental condition simply by reading the DSM-V. It is problematic for a husband to publicly put his wife in the middle of a fight with her boss, possibly by trading on inside information about the president's state of mind that she might have revealed around the dinner table.
The Conways' marriage has long been a source of fascination to followers of the palace intrigue side of the Trump administration. Both are longtime movers in conservative political and legal circles. Which leads people to wonder if they are faking this split to assure that one of them will still have a future in those circles when the Trump administration ends. If his presidency ends peacefully and Trumpism remains the ruling ideology of the GOP, then Kellyanne will have a great deal of credibility in the party. If it crashes and burns, then George, a Federalist Society member who represented Paula Jones when she sued Bill Clinton in the 1990s, will be treated as a prescient hero of the #NeverTrump movement among Republicans.
Whether genuine or orchestrated, the whole blowup seems like a bizarre storm to which a couple would subject their marriage. It also seems like yet another example of the ways in which people in Donald Trump's inner circle completely surrender whatever dignity they might once have possessed.