Op-Ed Oops! Sen. Thom Tillis Mocked For Flip-Flopping on Trump's Emergency Declaration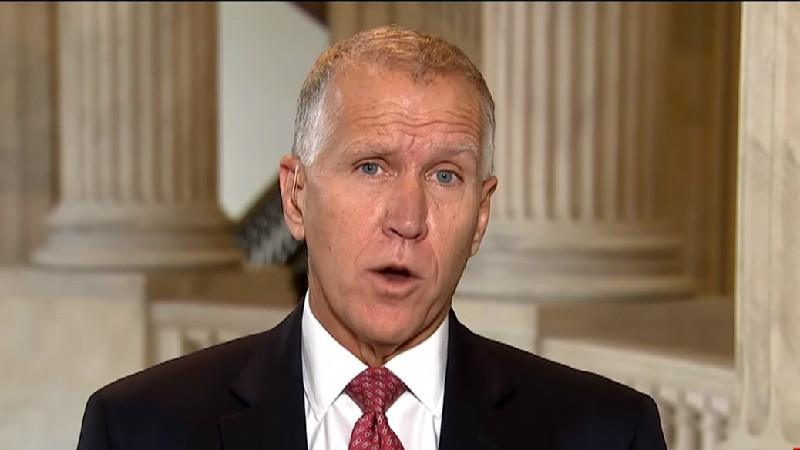 Weeks after penning a Washington Post op-ed promising to vote for a resolution disapproving of President Trump's national emergency declaration on border wall funding, Sen. Thom Tillis (R-NC) reversed course on Thursday and announced on the Senate floor that he would actually oppose the resolution.
Considering that the Trump-supporting senator made waves by writing a column explaining why he thought it was wrong for the president to use of an emergency declaration to secure additional funds for the wall and circumvent Congress, it was obvious that Tillis would get hammered for this flip-flop. Especially since he prostrated himself for the most cynical of political reasons — he was scared of an upcoming primary.
Several prominent conservative activists and donors privately tell me they were ready to start drafting primary challengers to Tillis if he held firm, with an eye on Mark Meadows or Mark Walker https://t.co/amOOthiqf0

— Robert Costa (@costareports) March 14, 2019
As soon as Tillis' submission to Trump went public, Twitter wasted no time pointing its collective finger and laughing at the North Carolina Republican:
rough wraithed https://t.co/fdV2gXYgq6 via @TPM

— Josh Marshall (@joshtpm) March 14, 2019
I don't want to sound cynical but Thom Tillis's decision could have something to do with his being up for re-election next year in a deeply red state. Just one man's opinion, God bless, don't @ me.

— Gary Legum (@GaryLegum) March 14, 2019
Thom Tillis shot/chaser. https://t.co/WyYRd6iLws pic.twitter.com/Gg2EAjklRP

— Emily C. Singer (@CahnEmily) March 14, 2019
Senator Thom Tillis just Flaked and pulled a Dean Heller. https://t.co/ECgZwwIbLA

— Ted Lieu (@tedlieu) March 14, 2019
OUT: Jeff Flake

IN: Thom Tillis

— Jennifer Bendery (@jbendery) March 14, 2019
The real national emergency is figuring out what happened to Thom Tillis's spine. https://t.co/wlRyuUdL6J

— Eric Kleefeld (@EricKleefeld) March 14, 2019
In the end, the Senate was still able to easily pass the resolution, as 12 GOP senators joined the Democrats to the tune of a 59-41 vote. The margin, however, is not enough to override an expected veto from Trump.