Louie Gohmert: I Didn't Vote For Anti-Hate Resolution Because I'm Worried About 'Another Holocaust'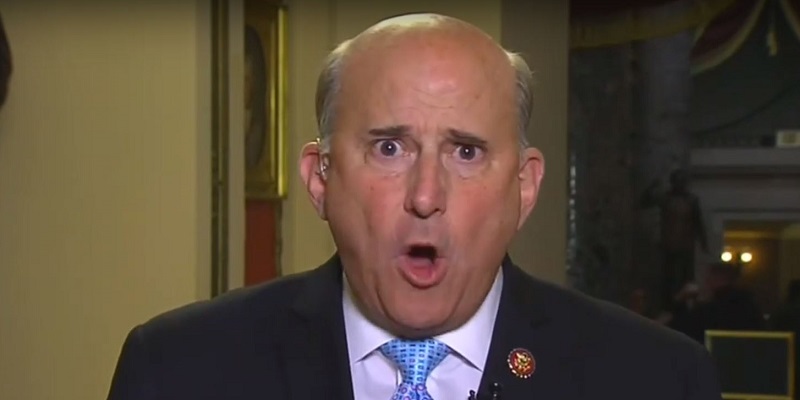 Rep. Louie Gohmert (R-TX) defended his decision to vote against an anti-bigotry resolution this week because the measure "offended people who are very concerned about another Holocaust coming about someday."
The Texas Republican made the remarks to Fox News's Harris Faulkner Friday afternoon as Gohmert and 22 of his fellow House Republicans tried to defend their "no" votes on the resolution. In doing so, Gohmert made two aspects of their decision very clear.
The first came early in the interview with Faulkner, when Gohmert told her his objection to the resolution was that "we needed to take on the anti-Semitism that was clearly expressed, a bigotry, a hatred that needed to be addressed, needed to be called out and yet the Speaker saying that this wasn't about Congresswoman Omar. We didn't address it. We generally said we're against hate."
The Republicans are not that offended by anti-Semitism. If they were, they would have booted Steve King out of Congress years ago. They would have roundly condemned Donald Trump after a string of anti-Semitic incidents and comments, most notably his defense of the white supremacist marchers in Charlottesville in 2017 as "very fine people."
What Republicans wanted, as Gohmert admits, was a resolution that specifically indicted Ilhan Omar. That indicates their objections are more about keeping her in the spotlight because they think she hurts Democrats instead of some principled opposition to bigotry in all forms.
The second aspect of Gohmert's decision was made clear a moment later, when he told Faulkner the House had shown it is against hate, "but maybe not the Democrat that hated Republicans and tried to kill a number of them, shot Steve Scalise or that the violence against Trump supporters. But even as horrible as the shooting of Steve Scalise, there's no moral equivalence to any of those things called out in this resolution yesterday on even things that weren't named."
The shooting of Steve Scalise was horrible, but whatever hatred of Republican politicians motivated the shooter is not remotely close to being comparable to the systemic biases against religious and ethnic minorities addressed by the House resolution. And that was the point of the whole exercise in the first place. Republicans may be disliked for a host of reasons, but conservatism is not a protected class. This need to see themselves as victims somehow in all of this is the definition of chutzpah.
There is zero reason to believe that not condemning the arguably problematic comments of a minority congresswoman is the first step on the road to another Holocaust. Sorry to cast aspersions on Gohmert's asparagus.
Watch video of Gohmert's comments up top, via Fox News.