Seb Gorka Warns CPAC That Democrats 'Want to Take Away Your Hamburgers': Stalin Dreamed About This!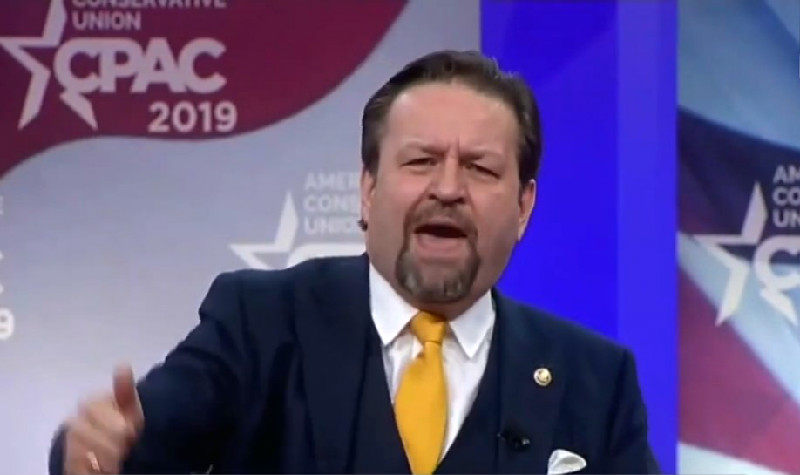 Speaking at the Conservative Political Action Conference Thursday morning, right-wing radio host and former Trump assistant Sebastian Gorka sounded the alarm bells on the rise of socialism in America, warning the audience that Democrats like Rep. Alexandria Ocasio-Cortez (D-NY) are coming for their Big Macs — just like Josef Stalin envisioned.
Gorka, known mostly for passing around fake Fox News business cards and parking his 4-cylinder Mustang on the sidewalk, bellowed that the greatest threat to the United States wasn't Russia or North Korea or Iran, especially since President Trump will put them all "back in its box." No, the biggest threat is "socialism here in America."
Noting that a large percentage of millennials prefer socialism policies to capitalist ones, Gorka railed against the Green New Deal, calling it a watermelon: "Green on the outside, deep, deep red communist on the inside."
He then told the crowd of conservatives that they are on the "frontlines of the war against communism coming back to America," warning them that socialism has overtaken the Democratic Party and they are coming for everything that red-blooded Americans love.
"They want to take your pickup truck, they want to rebuild your home, they want to take away your hamburgers," he shouted. "This is what Stalin dreamt about but never achieved."
The crowd cheered Gorka at the end, chanting "USA! USA! USA!"
Watch the clip above, via CSPAN.