Matt Gaetz Denies He Told Trump He 'Was Happy' to Attack Michael Cohen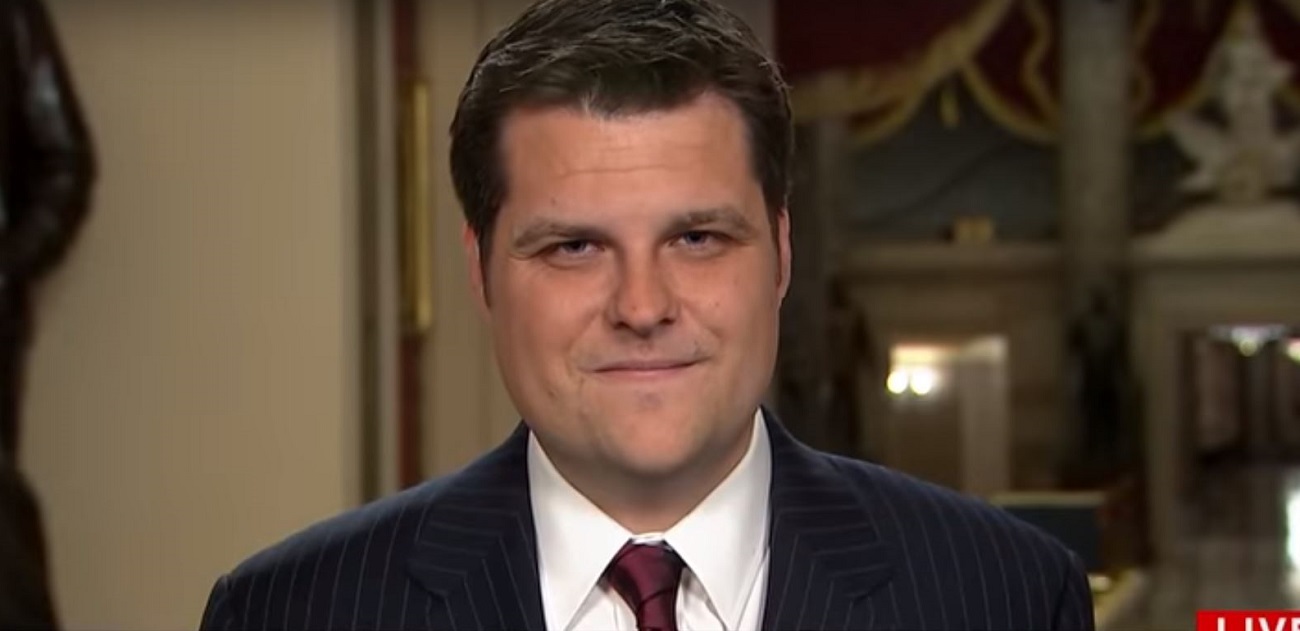 Rep. Matt Gaetz (R-FL) might be sorry for his Twitter attack on Michael Cohen on the eve of the former Trump lawyer's congressional testimony. Or he might not. It depends, apparently, on who he is talking to.
Following reports that he was being investigated by the Florida Bar for a possible ethics breach, plus at least one of his Democratic colleagues in the House calling for a possible criminal referral over his actions, Gaetz announced on Twitter on Wednesday night that he had personally apologized to Cohen:
I've personally apologized to @MichaelCohen212 4 referencing his private family in the public square. Regardless of disagreements, family members should be off-limits from attacks from representatives, senators & presidents, including myself. Let's leave the Cohen family alone.

— Matt Gaetz (@mattgaetz) February 28, 2019
"Disagreement" is a mild word for what was essentially a blackmail effort to keep a federal witness from providing testimony to Congress. But okay, he says he apologized, please don't disbar him or slap him with a criminal charge of witness tampering.
But is he really sorry? Edward-Isaac Dovere of The Atlantic reported on Thursday morning that Gaetz told President Trump the exact opposite:
President Trump called @mattgaetz last night from Hanoi to talk the Cohen testimony and the threats (since rescinded) Gaetz made about Cohen.
"I was happy to do it for you. You just keep killing it," Gaetz was heard telling him.
(Gaetz told me he doesn't discuss calls w/POTUS)

— Edward-Isaac Dovere (@IsaacDovere) February 28, 2019
The quote raises the question of whether Gaetz launched his initial attack at the behest of the president, which would perhaps make Trump an accessory to a crime if prosecutors were to decide one has been committed.
Gaetz had previously denied to Sam Stein of The Daily Beast that anyone in the White House had asked him to attack Cohen, saying that the idea was his alone:
Gaetz told me two days ago he "100 percent" did not talk to anyone in the White House about his threat to Cohen prior to tweeting it https://t.co/rGrBqa88Gx

— Sam Stein (@samstein) February 28, 2019
Gaetz himself first told Dovere that he doesn't "do readouts" of his calls with Trump. Later, he decried Dovere's report as "fake news" and tried, hilariously, to tell Alex Ward of Vox that whoever told Dovere about the call had overheard him talking to some other president:
Me: Any idea what conversation you may have had that someone mistook as you chatting with the president?

Gaetz: Yes. That's why it's hilarious.

Me: Who were you talking to?

Gaetz: I don't believe i said

/4

— Alex Ward (@AlexWardVox) February 28, 2019
Me: No, you didn't. Just want to know what conversation you were having that someone may have mistook as you speaking with the president.

[No response]

/5

— Alex Ward (@AlexWardVox) February 28, 2019
So to sum up, Matt Gaetz may or may not have been acting at President Trump's behest when he attacked Cohen, and he may have told Trump he was "happy" to do it just before tweeting that he was sorry and deleting the original tweet. Or he may have been talking to someone else altogether about some other subject.
But the fact remains that he told one reporter one thing, and in a matter of a couple of hours turned around and told another the complete opposite. At this point, there seems to be no recourse but a full investigation to get the truth. All of which could have been avoided if he got his story straight in the first place. Or never bothered with the juvenile attack at all.