Kevin McCarthy: My Deleted Soros Tweet Not Anti-Semitic, Just About Money In Politics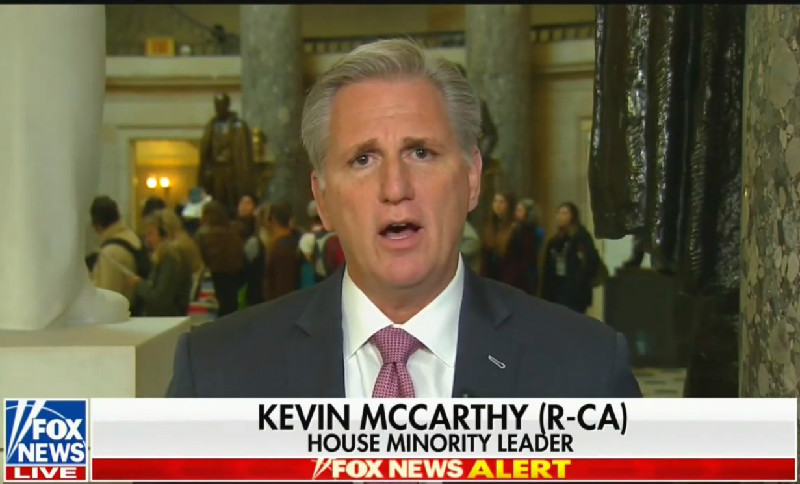 House Minority Leader Kevin McCarthy (R-CA) wants everyone to know that while it's obvious that a Democratic lawmaker is trafficking in anti-Semitic tropes, his tweet fearmongering about mega-wealthy Jews trying to buy politicians had absolutely nothing to do with faith.
Over the past few days, Rep. Ilhan Omar (D-MN) has been the subject of widespread and bipartisan backlash over her tweet about a pro-Israel lobby group that played directly invoked anti-Semitic stereotypes of Jews using money to influence international politics.
It's all about the Benjamins baby 🎶 https://t.co/KatcXJnZLV

— Ilhan Omar (@IlhanMN) February 10, 2019
Prominent Republicans have called for Omar to be punished for the tweet — even after she issued an unequivocal apology — and President Trump demanded Omar resign either from Congress or her seat on the House Foreign Affairs Committee. McCarthy, meanwhile, has continued to lead the GOP charge against the freshman congresswoman.
Appearing on Fox News Wednesday afternoon, McCarthy railed against Omar and Democrats for not taking more severe action against her. Host Harris Faulkner then brought up a tweet McCarthy sent out last year — and has since deleted — accusing wealthy Jewish Democrats of trying to buy the 2018 midterm elections.
Majority Leader Kevin McCarthy posted this tweet AFTER a bomb was sent to Soros' house. Up until a couple of minutes ago it was pinned to the top of his profile. pic.twitter.com/FEeKoPolHL

— Judd Legum (@JuddLegum) October 24, 2018
"That had nothing to do with faith," the Republican leader insisted. "That was about Republicans versus Democrats. All I was pointing out was money that Republicans and Democrats were spending to defeat one another."
He concluded by reiterating that his now-deleted tweet had "nothing to do with faith" and that it was only about intra-party politics and campaigning. Faulkner, meanwhile, took his response at face value and moved on to a final question about social media.
McCarthy came under intense criticism over that tweet, especially as he pinned it to the top of his profile after a pipe bomb was mailed to Jewish billionaire and liberal philanthropist George Soros. Despite denying his own accusations of playing footsie with anti-Semitic dog whistles, McCarthy seems completely unwilling to give a young member of Congress the benefit of the doubt that she unwittingly engaged in pushing ugly Jewish stereotypes.
Watch the clip above, via Fox News.