New Poll: Trump Would Benefit If Howard Schultz Runs For President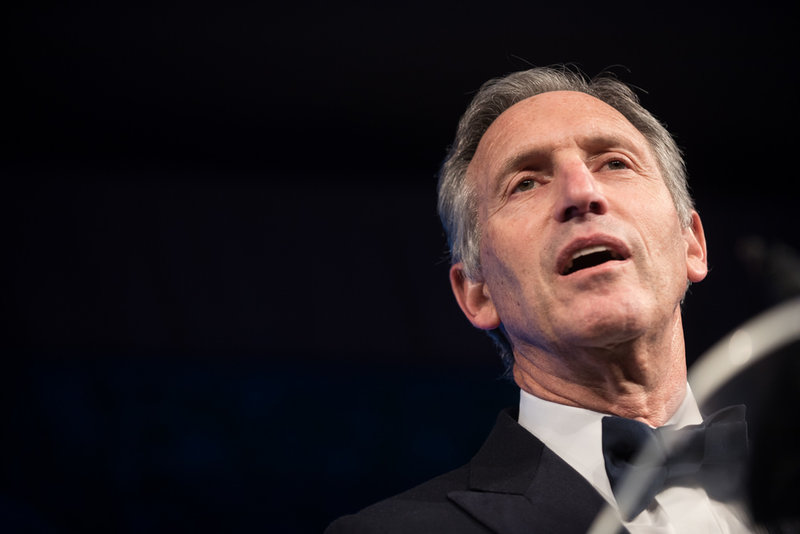 If Howard Schultz runs for president, he'll help Donald Trump win re-election. That's the conclusion of a new poll by Optimus, a data science firm studying independent voters ahead of the 2020 election. The former Starbucks CEO has yet to confirm he's running.
Schultz is polling at 7.7% – not nearly enough to win the White House. But the worrying result for Democrats is Schultz's performance with their voters. He enjoys support from 11.6% of Democrats but just 5.6% of Republicans. Those numbers put any Democratic presidential candidate at risk.
The Optimus poll shows former Vice President Joe Biden leading Trump by seven points in a theoretical match up. Biden hasn't announced whether he's running yet, but he's widely expected to enter the race for the Democratic nomination.
Schultz, former CEO of Starbucks, has faced significant criticism since publicly mulling a presidential bid. His attacks on the Democratic Party have alarmed liberals and progressives who fear that he could take moderate votes that a Democrat will need to win in 2020.
Schultz has also created controversy for calling himself a 'person of means' and eschewing the word 'billionaire'. Schultz holds shares in Starbucks worth around $2.5 billion and has a net worth of $3.5 billion. He's richer than President Trump and could potentially fund his own campaign.
The potential threat from a Schultz campaign has drawn parallels to other third party bids, most notably billionaire Ross Perot's 1992 run, which many Republicans believe cost President George H.W. Bush re-election. However, analysis doesn't bear this out.