Acting AG Matt Whitaker Lied About Academic All-American Honors On Resume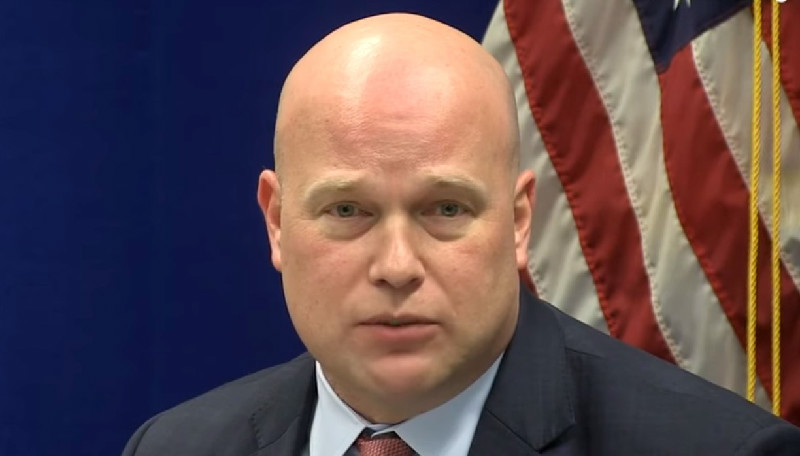 The Wall Street Journal reported on Wednesday that Acting Attorney General Matt Whitaker had falsely claimed on both his resume and government documents that he was named as an Academic All-American when he played football at the University of Iowa during the early 1990s.
Whitaker, who was a tight end for the Iowa Hawkeyes, included the honors on his one-time law firm's website and included it on his resume that he sent to the head of a patent-marketing firm in 2014. That resume was part of a set of documents released by the Federal Trade Commission.
Beyond that, Whitaker also asserted that he was an Academic All-American when he applied for an Iowa judgeship and the Department of Justice included the boast in a press release when Whitaker left his job as a U.S. Attorney.
The problem, of course, is that Whitaker was never given those honors.
As the WSJ noted, Whitaker's name never appeared on the list of Academic All-Americans during the years he played at Iowa and according to a spokesperson College Sports Information Directors of America, there is no record of Whitaker ever being an Academic All-American. After checking with the university, they found that he was selected for an All-District honor and his name was submitted to the national ballot. However, he was not chosen to the national team.
It is possible that Whitaker could have been confused by a 1993 media guide put out by the school. From the WSJ article:
Kerri Kupac, a Justice Department spokeswoman, said Mr. Whitaker relied on a 1993 University of Iowa football media guide, which listed him as a "GTE District VII academic All-American." (GTE was the contest sponsor at that time.)
She referred further questions to Steve Roe, an assistant athletic director at the University of Iowa, who said: "if there is confusion at all, part of it could be how we listed it in our media guide."
In order to be named to the Academic All-American team, a player has to achieve at least a 3.3 grade point average and be either a starting player or key reserve.
Whitaker isn't the first Trump appointee or prospective nominee to deal with issues surrounding their academic past. Conservative commentator Monica Crowley backed out after being chosen for a National Security Council spot after it was discovered that she heavily plagiarized her 2012 book and plagiarized portions of her PhD dissertation.