Louie Gohmert Defends Falsely Calling George Soros A Nazi Collaborator: 'That Is A Fact'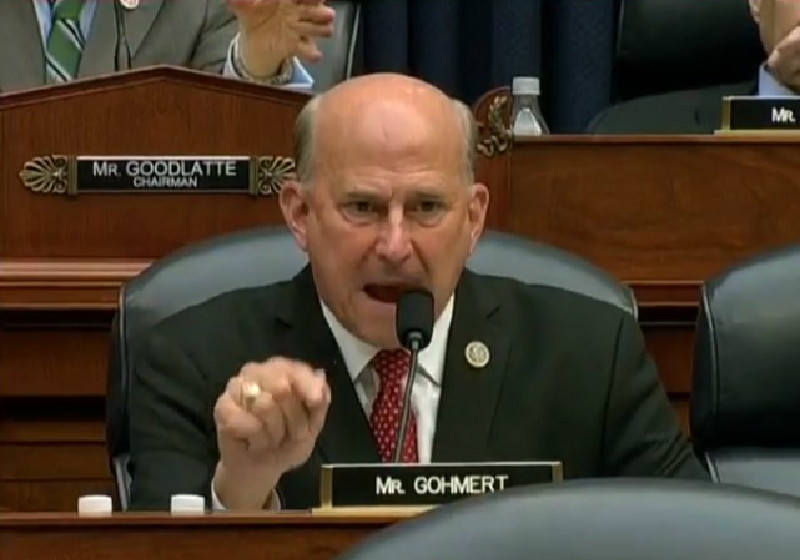 Following his Fox Business appearance that resulted in host Stuart Varney issuing an on-air apology, Rep. Louie Gohmert (R-TX) released a statement defending his accusation that liberal Jewish financier George Soros was a Nazi collaborator during the Holocaust.
In case you missed it, Gohmert — who has boasted in the past that criticism of Soros is not anti-Semitic — decided to use an interview segment about China and Google to take shots at the right's favorite boogeyman.
"George Soros is supposed to be Jewish but you wouldn't know it from the damage he inflicted on Israel and the fact that he turned on fellow Jews helped take the property that they owned," he said as Varney failed to push back. Varney would later read a statement the following hour stating that neither he or the network share Gohmert's views while noting that his accusation was false and baseless.
In a statement released this afternoon, Gohmert pointed to a 60 Minutes appearance in the late '90s as proof that Soros assisted the Nazis when he was a child during World War II. (Soros was 9 when the war started and 14 when it ended.)
"Soros himself admitted in a 60 Minutes interview with Steve Kroft on December 20, 1998 that he had no regrets whatsoever about assisting the Nazis in confiscating property from the Jewish people during the Holocaust," he wrote. "That is a fact. Any person with any sense of empathy for their fellow human beings would regret the part they played in confiscating Jewish property during the Holocaust."
Gohmert added, "My remarks were not anti-Semitic. Even the Israeli government has condemned Soros. They were about the horror of his lack of remorse over his actions. It was a pro-Jewish statement on my part and supportive of the statement that the Israeli government made last year that anti-Soros statements are not anti-Semitic because George Soros 'continuously undermines Israel's democratically elected governments by funding organizations that defame the Jewish state and seek to deny it the right to defend itself.'"
As Vox noted earlier this year after comedian Roseanne Barr claimed Soros was a Nazi, the 60 Minutes appearance has long been referenced by conspiracy theorists to back their assertions that Soros helped the Nazis.
While living with that Hungarian official — who did have the job of taking inventory at the homes of Jewish families whose possessions had been taken by the Nazi authorities — Soros accompanied him on one of those trips, to a mansion where Soros rode a horse for the first time.
Even in that 60 Minutes interview that is pasted across the internet as conclusive evidence of Soros's Nazi ties, Soros says that he was "only a spectator" to the confiscation of property (though he does say initially that he did help but seems confused by the question). As detailed in a biography of Soros by Michael Kaufman, his main job during his time in hiding was to pretend to the best of his ability to be a Christian teenage boy named Sandor Kiss.
Only 6 to 11 percent of Europe's prewar population of Jewish children survived the war. But because of Soros's father's efforts, both George and his brother, Paul, did.
Meanwhile, Snopes and other fact-checkers have debunked and refuted the claims over and over again that Soros collaborated with the Nazis as a young man.
This fall, Soros found himself the target of a right-wing domestic attack as a pipe bomb was mailed to him and other prominent Trump critics. Also, the Pittsburgh synagogue shooter was spurred on by his belief that Soros and other Jews were financing the migrant caravan.
While Gohmert stands by his remarks, some of his colleagues are calling for GOP leadership to address Gohmert and denounce him.
Hey @SpeakerRyan, I'm tagging you in this tweet to make sure that you can see @replouiegohmert's remarks and denounce them.

However, I'm sure that you'll still find a way to claim ignorance. https://t.co/OzSMdZJW5T

— Rep. Mark Pocan (@repmarkpocan) December 6, 2018