Former President George H.W. Bush Dies: His Career Spanned Nixon, Reagan And Saddam Hussein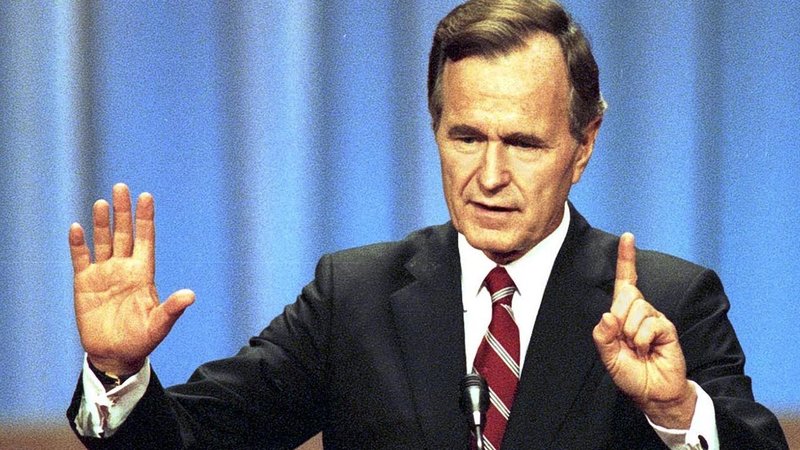 Former President George H.W. Bush has died at the age of of 94. Bush served as president from 1989 to 1993 and was America's first leader in the post-Cold War era. Bush is remembered as a moderate Republican and the head of one of the country's most influential families.
"George Herbert Walker Bush, World War II naval aviator, Texas oil pioneer, and 41st President of the United States of America, died on November 30, 2018. He was 94 and is survived by his five children and their spouses, 17 grandchildren, eight great-grandchildren, and two siblings," a statement said.
"He was preceded in death by his wife of 73 years, Barbara; his second child Pauline Robinson 'Robin' Bush; and his brothers Prescott and William or 'Bucky' Bush. Funeral arrangements will be announced as soon as is practical."
George H.W. Bush had a long and highly successful career in Republican politics, serving as head of the CIA before running for president in 1980. During the Republican primaries that year, he denounced Ronald Reagan's economic policy as 'voodoo economics' but later accepted the role as Reagan's vice president.
In 1988, Bush easily defeated Michael Dukakis in what became a famous electoral disaster for Democrats. Bush's term was widely considered a success. His most famous achievement was defeating Saddam Hussein and driving Iraqi forces out of Kuwait in 1991. However, public opinion has changed about the Gulf War in recent years, with many analysts seeing it as sowing future problems.
Bush's famous commitment not to raise taxes is possibly his most memorable quote: "Read my lips, no new taxes." Unfortunately, he was forced to raise taxes, a fact which played a pivotal role in his defeat in 1992. Despite bitter disappointment at becoming a one-term president, Bush lived long enough to see his son. George W. Bush, serve two terms in the Oval Office and support his other son, Jeb Bush, in an abortive attempt to gain the Republican nomination in 2016.
It is often forgotten that Bush was Chairman of the Republican National Committee during the Watergate Scandal and some of the worst years for Republicans' electoral chances, though he was not a household name until much later.
George H. W. Bush was a Republican moderate, less right-wing than Reagan and significantly more bipartisan than the modern GOP. With his death, and that of Senator John McCain earlier this year, Republicans have lost two of their most famous and accomplished elder statesmen.