White Nationalists Donated To Kansas Gubernatorial Candidate Kris Kobach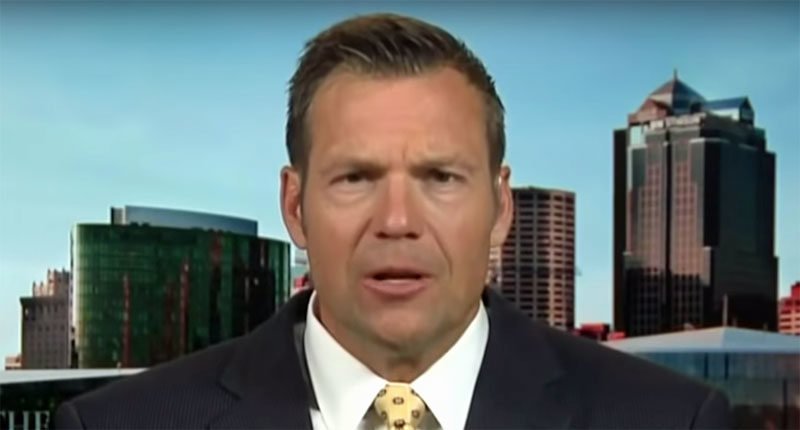 The Republican candidate for governor of Kansas accepted donations from white nationalists, according to recent financial disclosures. Kris Kobach is running in a close race against Democrat Laura Kelly in what is generally considered a deep red state.
Kobach accepted thousands of dollars from white nationalists, including a former official at the Department of Homeland Security. Ian Smith was forced to resign from DHS earlier this year following emails showing his links to white nationalists. Smith also used the term 'Judenfrei', meaning 'free of Jews'. Kobach accepted a donation from him.
He also accepted donations from a group called US Immigration Reform Pac, an anti-immigrant group with close ties to John Tanton. Tanton has close links with Holocaust deniers and white supremacists. A donation from this group was crucial in starting Kobach's political career in 2004.
Kobach has been a determined opponent of voter fraud, heading up President Trump's now defunct commission on voter fraud. This commission was widely seen as a partisan attempt to justify voter suppression and disbanded before it issued a report.
Kobach has also been accused of suppressing the vote in Kansas. He is Secretary of State and the ACLU has expressed concerns about his handling of this year's elections. This includes moving a key polling station that may make it more difficult for Hispanic voters to cast their ballots.
Donald Trump has had a powerful ally in Kris Kobach. Following the 2016 presidential election, Trump claimed that millions of people had voted illegally, costing him the popular vote. Thanks to voter fraud hawks like Kobach, Trump's claims have become part of a wider narrative on the right about illegal voting – a problem that is practically non-existent.