Suspected Bomber Cesar Sayoc Frequently Tweeted Conspiracy Theories And MAGA Memes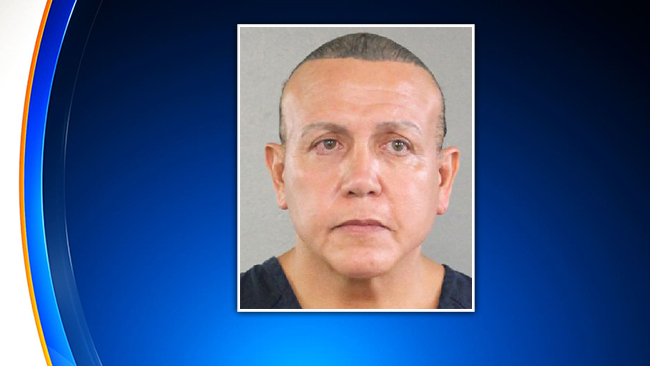 Cesar Sayoc Jr., the Florida man who was taken into custody by federal authorities today in connection with the pipe bombs mailed to prominent Democrats and CNN, used his Twitter account to post pro-Trump messages and conspiracy theories. He also tweeted out threats to progressives and liberals.
On two accounts (@hardrock2016 and @hardrockintlent) that had relatively few followers before Sayoc's arrest, the 56-year-old frequently tweeted out the kind of stuff generally associated with the far-right fever swamps, such as Donald Trump subreddits or the Breitbart comment sections.
Many of the tweets were basic boomer pro-Trump or GOP memes, celebrating the president, calling for an upcoming "Red Wave," or parroting Dinesh D'Souza when it comes to tying Democrats to slavery and Jim Crow.
— Cesar Altieri (@hardrock2016) October 15, 2018
— Cesar Altieri (@hardrock2016) October 10, 2018
— Cesar Altieri (@hardrock2016) October 10, 2018
Sayoc also posted a blurry video of him apparently at a Trump rally, chanting for the president along with other supporters.
Happy Birthday tge greatest President Ever Trump Trump Trump pic.twitter.com/VoXvQMGApi

— Cesar Altieri (@hardrock2016) June 7, 2018
But others targeted liberal philanthropist George Soros, who has long been the focus of right-wing, anti-Semitic conspiracy theories. Soros was one of the targets of the mass bomb threat as an explosive device was discovered at his New York residence.
— Cesar Altieri (@hardrock2016) October 24, 2018
The bomber shared a meme describing George Soros as a "Judeo-plutocratic Bolshevik Zionist world conspirator," in case you think antisemitism has nothing to do with this spate of assassination attempts pic.twitter.com/UNiBwr9lAm

— Talia B Lavin (@chick_in_kiev) October 26, 2018
A number of those Soros tweets falsely claimed that the Parkland mass shooting was a false flag and that Stoneman Douglas student David Hogg was an adult actor paid by Soros.
David Hoggs fake phony big gets con job never attended Parkland High School.He graduated 2015 from Redondo Bch High School.He is a paid George Soros actor fraud pic.twitter.com/oGKD53q1F2

— Cesar Altieri (@hardrock2016) August 12, 2018
— Cesar Altieri (@hardrock2016) July 28, 2018
(He tweeted about the Hogg/Soros connection a LOT.)
Sayoc also took aim at Rep. Debbie Wasserman Schultz quite a bit on his Twitter account. All of the packages he sent out included Schultz as the return address.
Democrats at it again more scams running out control ripping off elderly money laundering Joy Cooper Hallandale Bch Fla Mayor arrested very close friends with Debbie Wauserman Shultz the next Town Over Aventura. Shultz knowing for ripping off elderly in Aventura Fla pic.twitter.com/m01z5xURMV

— Cesar Altieri (@hardrock2016) July 7, 2018
— Cesar Altieri (@hardrock2016) July 7, 2018
More posts issued threats to liberal and progressives like frequent conservative punching bag Colin Kaepernick and actor/activist Jim Carrey, among others. A tweet directed at former Vice President Joe Biden, one of Sayoc's targets, featured a photo of Biden's home and informed the veep to hug his loved ones "real close everytime U walk out your home."
The Twitter account the FBI says belonged to Cesar Sayoc posted a message earlier this year advising former VP Joe Biden to hug his family "real close everytime U walk out your home." pic.twitter.com/APn0xadRab

— Brad Heath (@bradheath) October 26, 2018
Sayor posted numerous memes and images highly critical of CNN, using the MAGAshpere's favorite slogan: "CNN SUCKS"
Mail bomb suspect Cesar Sayoc, Jr. also posted memes about Time Warner and @CNN, writing the ever-familiar "CNN SUCKS" pic.twitter.com/nwB5Bq1lmp

— Andrew Peng (@TheAPJournalist) October 26, 2018
He was also filmed at a Trump rally last year holding up an anti-CNN poster:
The American media are finding a number of videos and images of #MAGABomber suspect Cesar Sayoc attending Donald Trump events. Here he's holding a "CNN Sucks" sign at a February 2017 Trump rally in Florida.
pic.twitter.com/2fawbANXM3

— Michael Gravesande (@OldBlackHack) October 26, 2018
The white van that Sayoc drove, and was taken away by authorities, was nearly completely covered with pro-Trump and MAGA stickers and decals. Some of the images featured liberals with crosshairs and declarations that "CNN Sucks."
@CBSMiami I have some pictures of this van I saw him at a stoplight one day and thought is was very strange. pic.twitter.com/VWUwznJK8k

— Mahmud mohamed (@thereal_mo01) October 26, 2018
Sayoc was arrested at a business in Plantation, Florida, which is roughly 30 miles north of Miami. His address was in Aventura, Florida — a short drive from Plantation. According to authorities, he has ties in New York, where many of the packages were sent, and is a registered Republican. Sayoc also has a lengthy criminal history, including an arrest for making a bomb threat in 2002.