Protesters Shout 'Shame On You!' At Joe Manchin After He Announces He'll Vote For Kavanaugh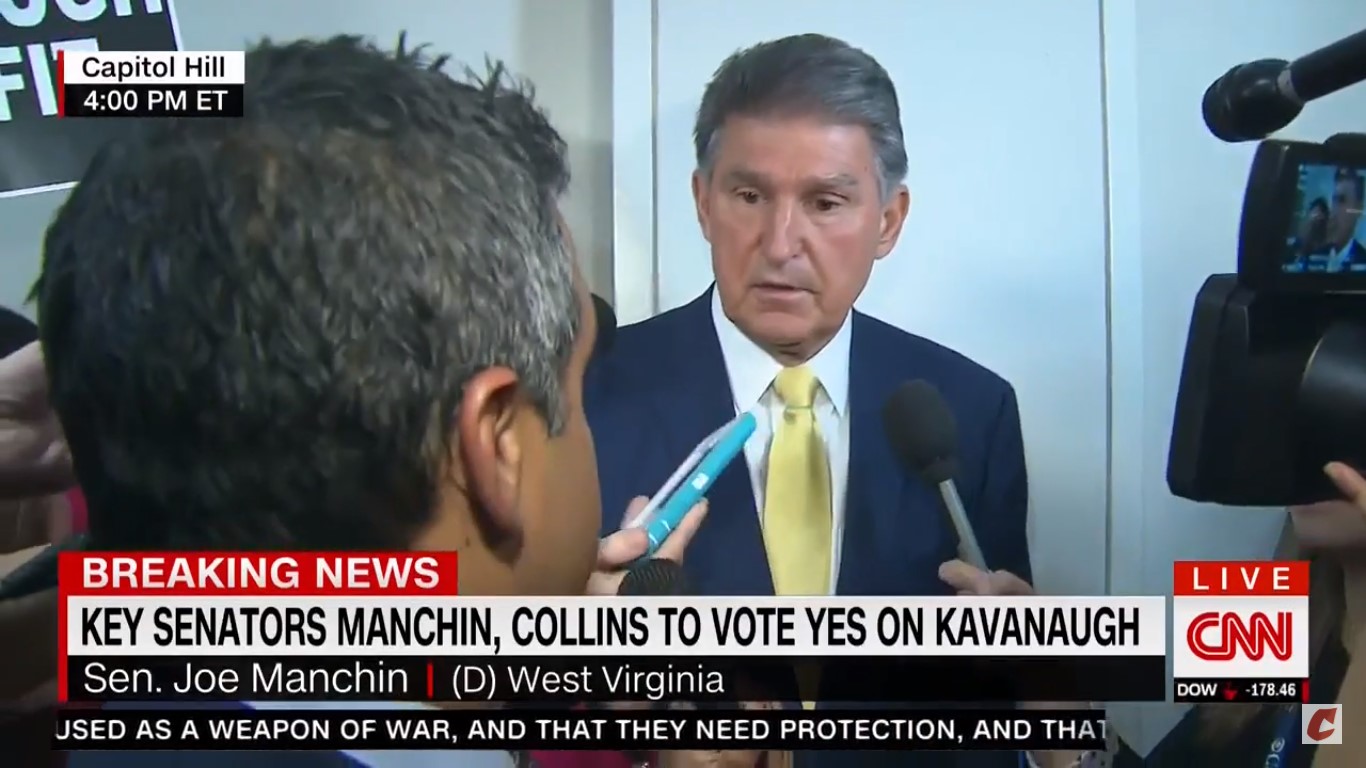 Following Sen. Susan Collins' long-winded Senate floor speech in which she finally announced that she'd vote to confirm Supreme Court nominee Brett Kavanaugh, Sen. Joe Manchin (D-WV) released a statement that revealed that he would also be a "yes" on Kavanaugh, making him both the lone Democrat in favor of Kavanaugh and the one pushing the nominee fully into the majority.
I will vote to support Supreme Court nominee Judge Brett Kavanaugh. pic.twitter.com/1FfuMTOZz8

— Senator Joe Manchin (@Sen_JoeManchin) October 5, 2018
After his statement was released, Manchin's office was descended upon by both reporters and anti-Kavanaugh demonstrators. While the West Virginia lawmaker explained his decision, laughingly claiming at one point that he didn't look at it through a political lens, a swarm of protesters shouted him down.
"Shame! Shame! Shame!" the crowd yelled early on.
As Manchin continued to talk, the protesters shouted "shame on you" over and over. They eventually switched to another chant — "Look at us!" — as he tried to concentrate on answering reporters' questions.
"I believe Dr. [Christine Blasey] Ford," he said at one point. "Something happened to Dr. Ford. I don't believe that the facts show it was Brett Kavanaugh."
Towards the end of his press scrum, Manchin brushed off a question on whether he felt there was a place for him in the Democratic Party by answering he was merely a "West Virginian." He also noted that Kavanaugh's hearing performance bothered him a lot when it came to temperament but it didn't change his vote.
As he looked to walk away, the demonstrators yelled out "shame on you" some more, with one woman yelling "what is wrong with you" and wondering aloud whether he believed sexual assault victims.
Watch the clip above, via CNN.