Adam Schiff: They Could Be Walking Trump Away 'In Handcuffs' And Giuliani Would Say He's Vindicated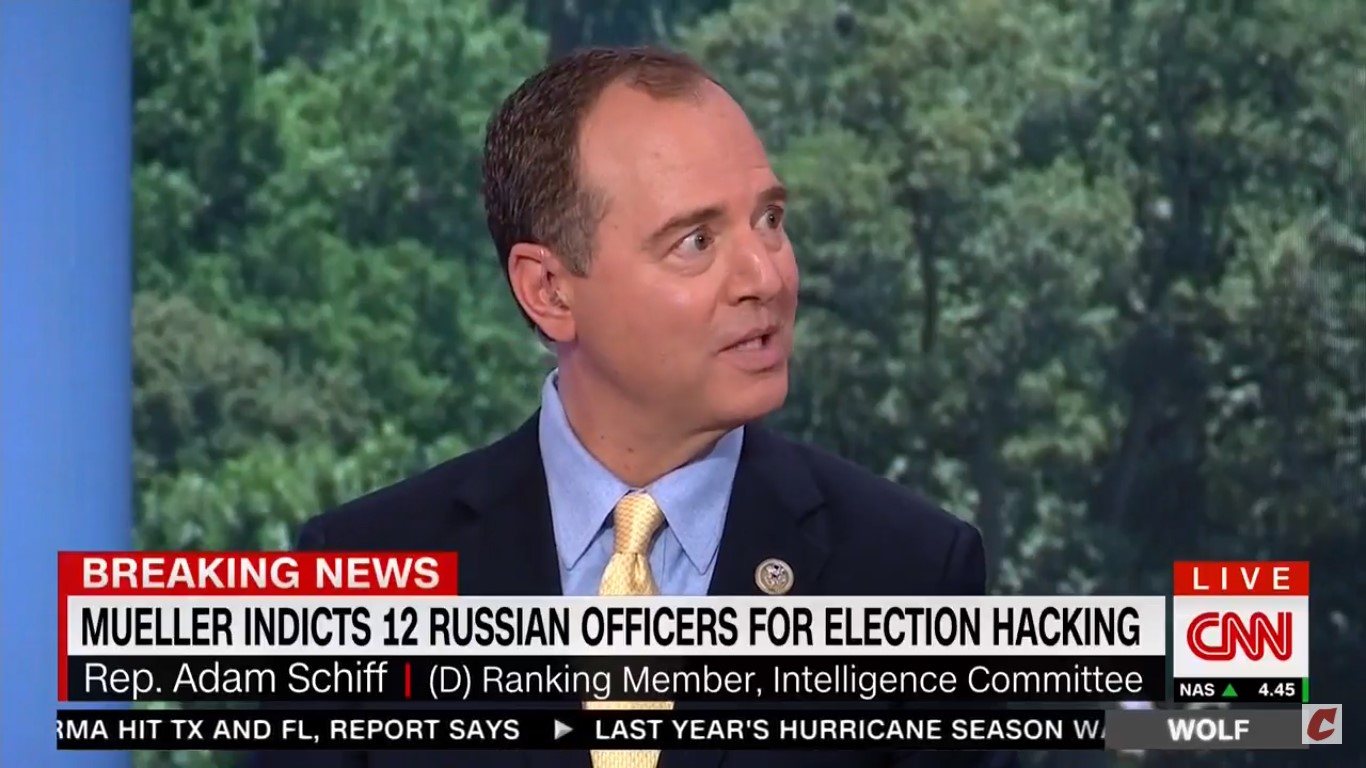 After the bombshell announcement that twelve Russian intelligence officers had been indicted on charges of hacking and conspiracy related to the 2016 election — and the indictments showed Trump's public call for the Russians to find Hillary Clinton's emails were heeded — the president's allies and supporters quickly attempted to spin this as a positive for Trump. Leading that charge was the president's personal attorney Rudy Giuliani.
The indictments Rod Rosenstein announced are good news for all Americans. The Russians are nailed. No Americans are involved. Time for Mueller to end this pursuit of the President and say President Trump is completely innocent.

— Mayor Rudy Giuliani (@RudyGiuliani) July 13, 2018
As you can see in the tweet above, the former New York City mayor said that it was now time for the Mueller prove to end because the "Russians are nailed" and "Trump is completely innocent."
Meanwhile, Ranking Member of the House Intelligence Committee, Rep. Adam Schiff (D-CA), noted that there was nothing that could occur in this investigation that would cause Giuliani to not make this assertion — including Trump going to jail.
Appearing on CNN shortly after the announcement of the indictments, Schiff was asked about Giuliani's tweet by anchor Wolf Blitzer, who also pointed out that other Trump advisers were going down this route.
"I'm saying this in jest. They could be walking the president away in handcuffs and Rudy Giuliani would say he's been vindicated," the California Democrat replied. "But only partly in jest."
Schiff also stated that he was not surprised by anything that came out in Friday's indictment while applauding the Mueller investigation for the extraordinary level of detail. Earlier this year, Republicans on the House Intelligence Committee released a report concluding that Vladimir Putin and Russia did not favor Trump in the election nor tried to help him.
Watch the clip above, via CNN.