Amid Bad Press, Trump Changes Mind And Orders Flags At Half-Staff For Capital Gazette Victims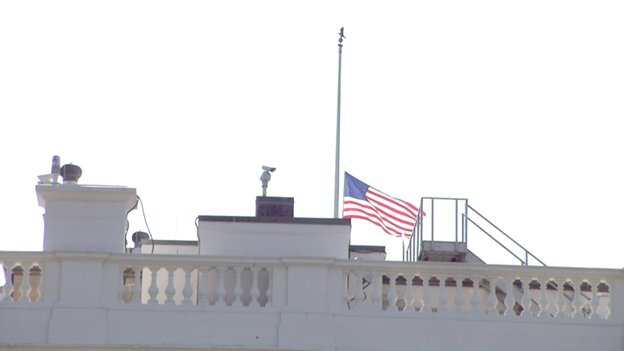 It looks like the president is doing an about-face amid withering criticism over an ill-advised decision.
In the wake of a horrific shooting at Maryland newspaper Capital Gazette that left five dead, Annapolis Mayor Gavin Buckley asked that American flags be lowered to half-mast, as has been done following other recent mass shootings. Gavin, however, said that his request was declined by President Trump.
"Obviously, I'm disappointed, you know? … Is there a cutoff for tragedy?" Buckley told the Capital Gazette Monday. "This was an attack on the press. It was an attack on freedom of speech. It's just as important as any other tragedy."
The mayor noted he went through Maryland's congressional delegation to ask the president for the flag lowering. During that time, Maryland Governor Larry Hogan ordered the state flag to be moved to half-staff.
By Tuesday morning, Trump reversed course after being on the receiving end of bad press, especially considering his long history of attacking the "Fake News" media. In a proclamation released Tuesday morning, the president ordered American flags at all public buildings to be flown at half-mast until the end of the day Tuesday.
White House Press Secretary Sarah Huckabee Sanders told reporters Tuesday morning that Trump issued the order after he "directly heard" about the mayor's request and confirmed that it had been sent.
Meanwhile, as he was issuing his proclamation to honor the slain journalists, Trump decided to go back to tossing out his favorite attack line at the mainstream media Tuesday morning.
Many good conversations with North Korea-it is going well! In the meantime, no Rocket Launches or Nuclear Testing in 8 months. All of Asia is thrilled. Only the Opposition Party, which includes the Fake News, is complaining. If not for me, we would now be at War with North Korea!

— Donald J. Trump (@realDonaldTrump) July 3, 2018
[Image via Mark Knoller/Twitter]