Sour Grapes: Alan Dershowitz Whines His Friends In Martha's Vineyard Are Shunning Him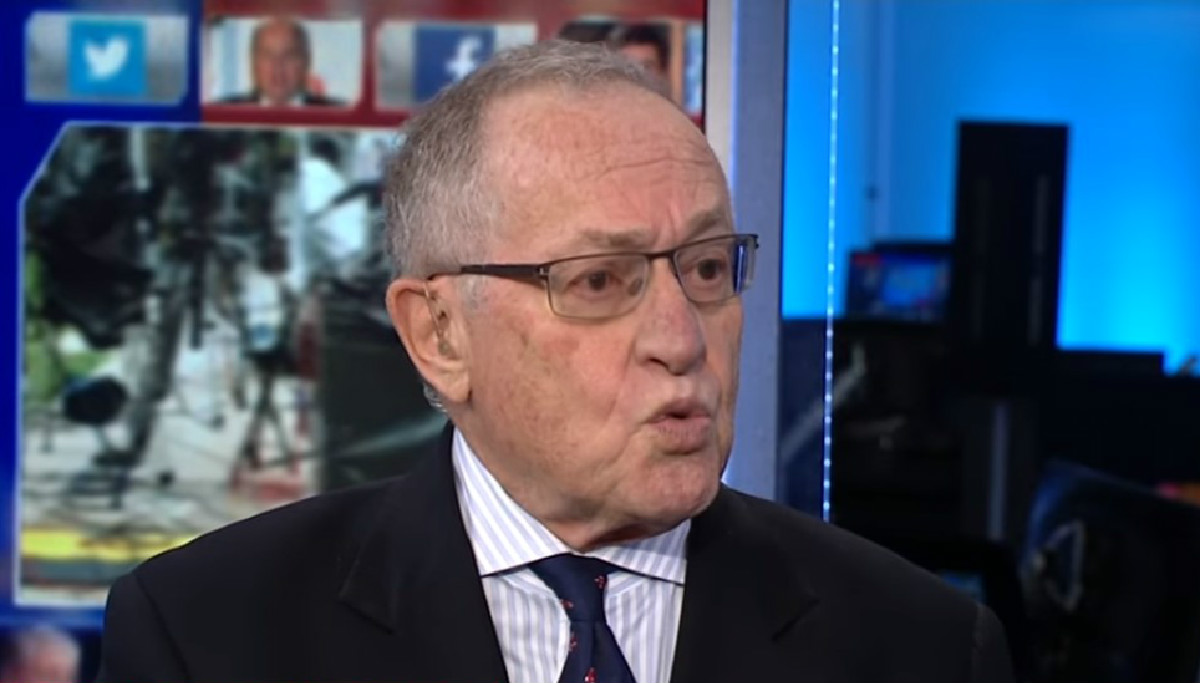 Retired Harvard Professor Alan Dershowitz has waded into the civility debate with an absolute howler about his recent shunning at Martha's Vineyard.
Alan Dershowitz raises his voice in protest against the gravest injustice in the land: "My old friends…are shunning me and trying to ban me from their social life on Martha's Vineyard" https://t.co/TuhuGgemsE pic.twitter.com/HGWchs4K5G

— Max Blumenthal (@MaxBlumenthal) July 2, 2018
It appears that liberal elites are fed up with Dershowitz's defense of President Donald Trump and his incessant attacks on Special Counsel Robert Mueller. Dershowitz strikes a rather defiant tone in his piece for The Hill, but you can sense his hurt feelings and deep resentment towards those who have ostracized him — and it's hilarious.
Meanwhile, Twitter is having a healthy chuckle imagining a lonely Dershowitz, hopelessly wandering around, unable to find someone to toast with at Martha's Vineyard.
The mean streets of Martha's Vineyard are coming after Alan Dershowitz. https://t.co/oKGOvgPo1n

— Wajahat Ali (@WajahatAli) July 2, 2018
Alan Dershowitz has been shunned by Martha's Vineyard society. Looks like my favorite island just got better! 😎 https://t.co/8OFUTfT0tZ

— Tabetha Wallace (@TabethaWatching) July 2, 2018
The funniest part is that he wrote this. Being a pariah on Martha's Vineyard to own the libs.

— David Klion 🔥 (@DavidKlion) July 2, 2018
I had a boyfriend once with a family place on Martha's Vineyard and even then I didn't want to go to Martha's Vineyard bc I hate trees and grass and things but now I want to go to Martha's Vineyard just to be a dick to Alan Dershowitz

— Dr. Tara Isabella Burton (@NotoriousTIB) July 2, 2018
Please say a prayer for Alan Dershowitz. His friends on Martha's Vineyard are being mean to him. https://t.co/CZaJta3CiG

— Tommy Vietor (@TVietor08) July 2, 2018
lol, poor Alan Dershowitz is getting the side eye at Chilmark General Store. https://t.co/LdCCHNCvUK

— Eric Boehlert (@EricBoehlert) July 2, 2018
Alan Dershowitz is somehow able to survive his intense Martha's Vineyard shunning pic.twitter.com/DsajZ5EBx3

— Brian Tashman (@briantashman) July 2, 2018