Michael Cohen Lets Trump Know He Won't Take A Bullet For Him Anymore: My Family Has 'My First Loyalty'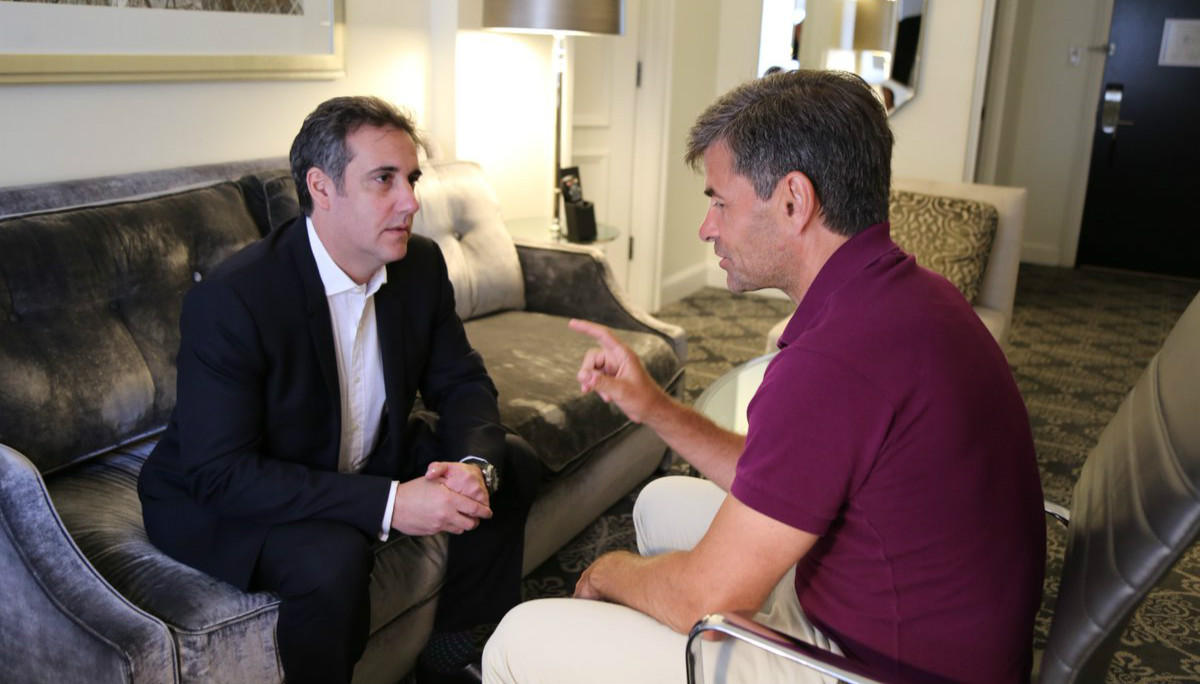 Late Sunday night, longtime Trump personal attorney and 'fixer' Michael Cohen teased a bombshell interview with ABC News' George Stephanopoulos, tweeting out that his "silence was broken." On Monday morning, Stephanopoulos provided all of the major highlights of his sit-down, unfilmed interview with the former Trump Organization executive, and it was apparent that Cohen was sending the president a very clear message.
I will not take a bullet for you going forward.
In the first in-depth interview since his office and home were raided by FBI agents in April, Cohen suggested that he would be willing to work with federal prosecutors and the Mueller investigation.
"My wife, my daughter, and my son have my first loyalty and always will," Cohen told Stephanopoulos. "I put family and country first."
Since the FBI raid, it has been widely speculated that Cohen might flip on the president and give damaging information on Trump to prosecutors and Special Counsel Robert Mueller. In recent days, it has been reported that Cohen feels it is just a matter of time before he is indicted and that he'd be willing to give up dirt on the president.
Besides continually telling the ABC News host that his loyalty lies with family and country and not with Trump, Cohen also essentially confirmed that he was breaking from the joint defense agreement he had with the Trump legal team.
"Once I understand what charges might be filed against me, if any at all, I will defer to my new counsel, Guy Petrillo, for guidance," he said.
If this sounds familiar, it is also what former National Security Adviser Michael Flynn did right before he decided to cooperate with the Mueller probe.
Michael Flynn's lawyers stopped sharing info with Trump's, right before he flipped. Now Cohen's doing it. https://t.co/LJzUdVANzg

— Aaron Blake (@AaronBlake) July 2, 2018
Besides repeatedly sending the message that the president can no longer rely on him to remain loyal and silent, he also broke from Trump when it came to the FBI. As Trump and his allies have smeared the bureau and DOJ in an effort to undermine the investigation into the Trump campaign's potential role in Russian election meddling, Cohen had nothing but praise for the agents who conducted the raids, further indicating a break from Trump.
Watch the interview below, via ABC News.
In @GStephanopoulos' exclusive interview with Pres. Trump's former personal attorney Michael Cohen, Cohen stays mum on commitment to his longtime client: "To be crystal clear, my wife, my daughter and my son, and this country have my first loyalty." https://t.co/V7gE1FomMf pic.twitter.com/TPu7kkiOpJ

— Good Morning America (@GMA) July 2, 2018