Check Out The Bizarre Propaganda Video Trump Had Made To Flatter Kim Jong Un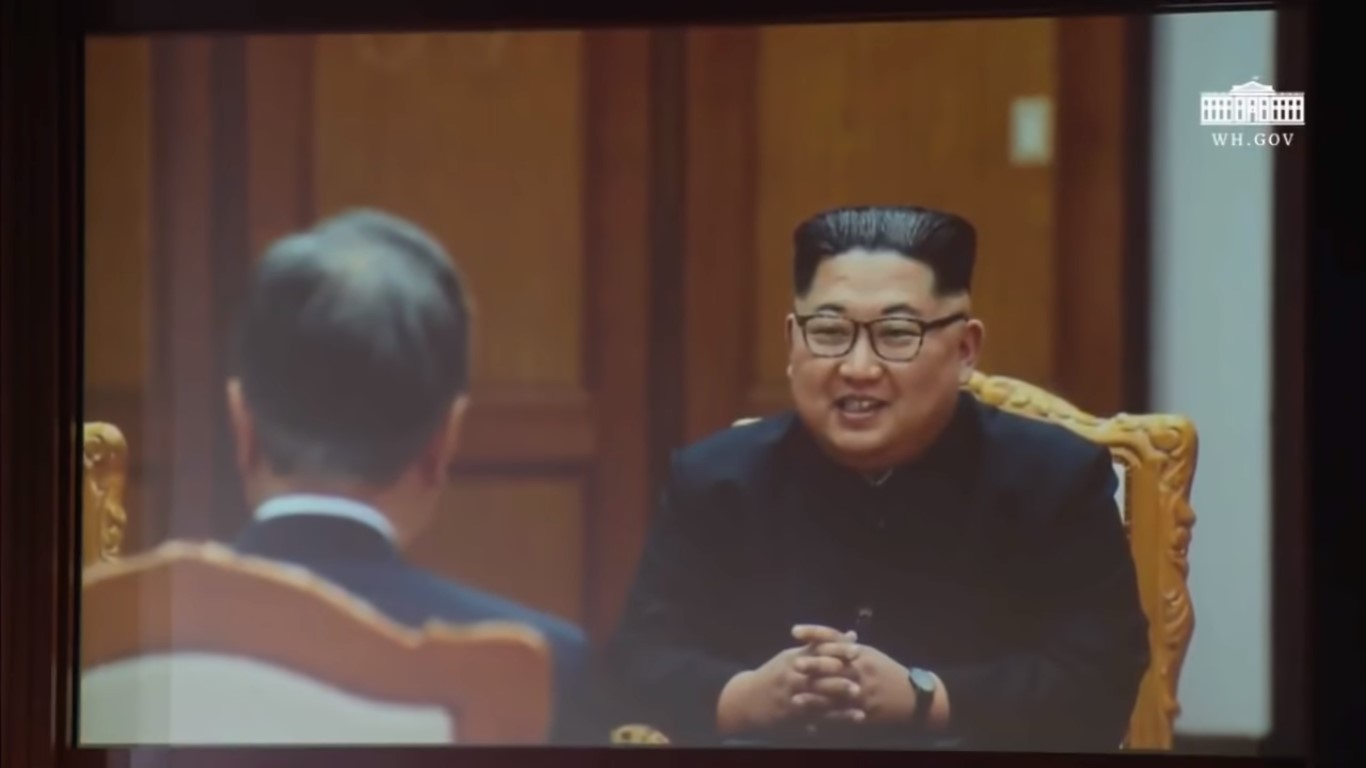 This is something that really needs to be seen to be believed.
Days after lobbing Twitter grenades at the leader of one of America's closest allies following an acrimonious G7 summit, President Donald Trump spent the day showering praise and flattery onto the world's most brutal dictator during a historic meeting between the two leaders. After signing a vague joint statement with North Korea's Kim Jong Un that offered up no tangible commitments from the Hermit Kingdom leader, Trump headed off towards a press conference.
And that's when the gathered media was greeted with a creepy propaganda film produced by "Destiny Pictures" that presented Kim and Trump as "two men, two leaders, one destiny."
The four-minute clip, produced in the form of a lengthy movie trailer, showed images of war and military aggression while a narrator states that "a new world can begin today, one of friendship, respect and goodwill." The video then shifts to scenes of prosperity and industrialization while heavily featuring Kim and Trump as once-in-a-lifetime men of destiny who hold the future in their hands.
The president acknowledged that he showed this video to Kim during their meeting, stating that he thinks the dictator "loved it." He added that other members of the North Korean delegation who saw the clip were "fascinated by it."
Asked by reporters if he was concerned that the video could be used by Kim as propaganda, Trump merely answered "I'm not concerned at all." Of course, Trump also said throughout the day that he has a "very special bond" with Kim and that he can trust him, all while pointing out the reclusive dictator is "very talented."
Once the propaganda clip was shared on social media, a lot of media folks were baffled and horrified that the commander in chief would do have this film made up.
It is deeply weird and embarrassing that the United States government produced this video

We are literally creating propaganda for a murderous dicatatorhttps://t.co/Wihiz4IN9F

— Judd Legum (@JuddLegum) June 12, 2018
"Two men, two leaders, one destiny." A video that must be seen to be believed, produced by the White House. https://t.co/HpSabUdBjL

— Philip Crowther (@PhilipinDC) June 12, 2018
What did I just watch? What's Destiny Pictures? That looked like a Scientology ad

— Yashar Ali 🐘 (@yashar) June 12, 2018
They are playing a propaganda video before Trump presser. Not kidding. What is happening??!!

— Andrew Beatty (@AndrewBeatty) June 12, 2018
Epic Trump news conference in Singapore. It began about an hour ago with propaganda-style video imagining North Korean prosperity and is continuing with many questions and many headlines.

— Philip Rucker (@PhilipRucker) June 12, 2018
Trump, The DealMaster: "I will stop all US military exercises and new sanctions and in return I will also give you propaganda videos and demand nothing from you."

— Jess Dweck (@TheDweck) June 12, 2018
Pres Trump says "not concerned at all" about possible propaganda value he gave Kim Jong-un by meeting with him. "I'll do whatever it takes to make the world a safer place," says @POTUS.

— Mark Knoller (@markknoller) June 12, 2018
Watch the clip above.