Giuliani Says POTUS Can Pardon Himself, Doesn't Want Trump To Testify Because 'Recollection Keeps Changing'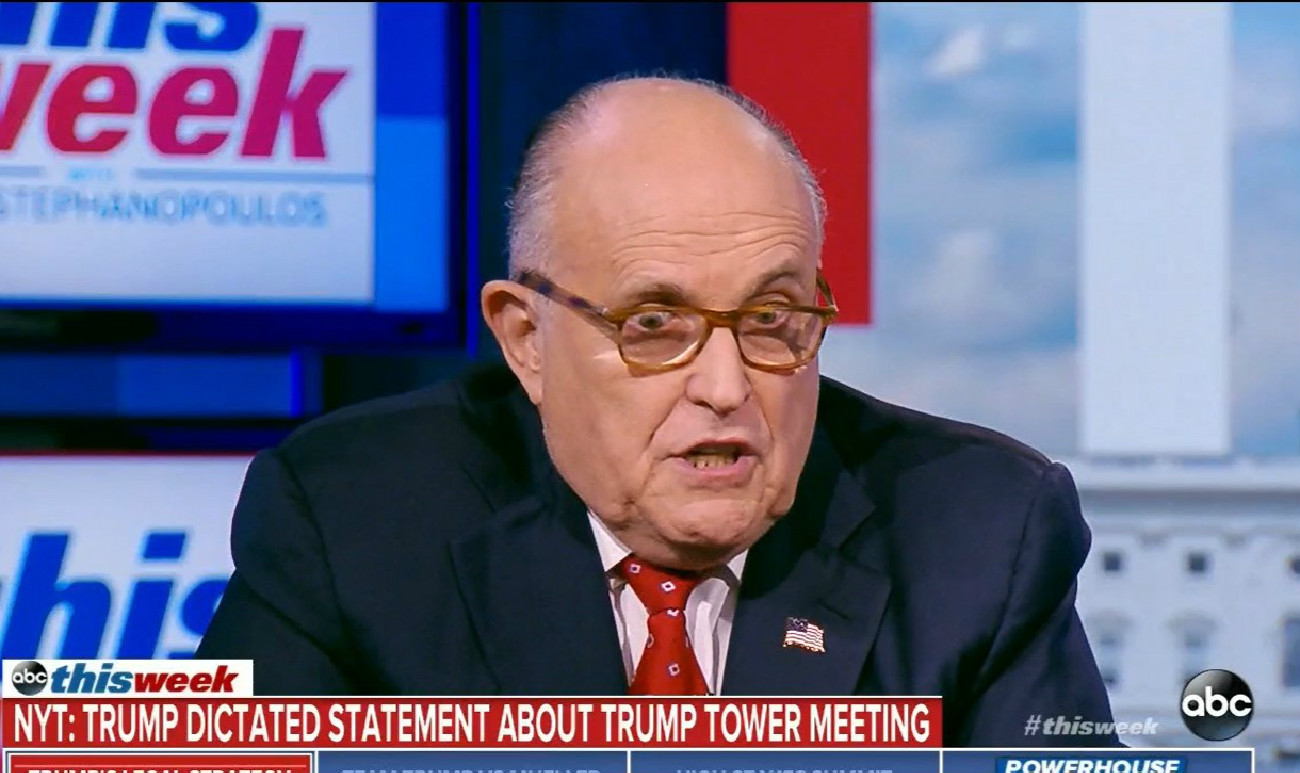 Over the weekend, a confidential memo written by President Trump's legal team and sent to Special Counsel Robert Mueller was obtained and published by the New York Times. In the letter, Trump's lawyers asserted that the president's executive powers meant he couldn't be forced to testify. They also contended that Trump could not commit obstruction of justice because he has supreme authority over all federal investigations. The letter also contradicted earlier claims by Trump attorney Jay Sekulow that Trump did not dictate the initial response to Donald Trump Jr.'s Trump Tower meeting revelation.
This Sunday, Trump lawyer and former New York City Mayor Rudy Giuliani appeared on NBC's Meet the Press and ABC's This Week, and just as we've seen over these past few weeks, Rudy G raised eyebrows and set tongues a-wagging with his off-the-cuff remarks that he'll likely walk back later.
During his ABC hit, the one-time America's Mayor addressed a part of the letter that had asserted the president's pardon power. Asked by host George Stephanopoulos if Trump could actually pardon himself, Giuliani noted that the president isn't planning on doing it, "but he probably does" have the power to do so. He went on to say it was an "interesting constitutional argument" while adding the "political ramifications of that would be tough."
Later on in the interview, the ex-NYC mayor was pressed on Sekulow's initial insistence that the president had nothing to do with the Trump Jr. letter. Giuliani used the shifting explanations to make the case that Trump should not testify in the Mueller probe.
"I think Jay was wrong. this is the reason you don't let the president testify," he told Stephanopoulos. "If — our recollection keeps changing. Or we're not even asked a question. Somebody makes an assumption. In my case, I made an assumption. I corrected it. I think that's what happened here."
Over on NBC, one standout moment — outside of Rudy calling host Chuck Todd "Todd" and then "Chris" — again revolved around the possibility of Trump pardoning himself. In this instance, he expanded on his remarks that there would be political ramifications by the president going down this road.
"The president of the United States pardoning himself is unthinkable," Giuliani noted. "It would probably lead to immediate impeachment."
So will Trump appreciate his own lawyer saying publicly he can't even think about pardoning himself because it will lead to him getting impeached? Hmmmm…
Watch the clip above.