Carl Bernstein: Trump 'Has Lied At Will All Of His Adult Life,' Impossible For Him To 'Regain Trust'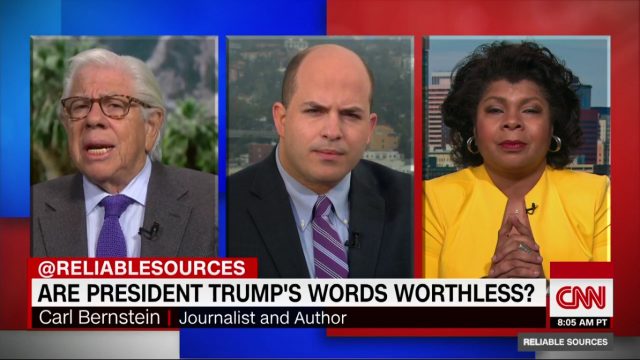 At the beginning of today's broadcast of CNN's Reliable Sources, CNN political commentator and Watergate reporting legend Carl Bernstein hammered President Donald Trump over his lack of trustworthiness and penchant for telling lies.
After host Brian Stelter delivered a short essay at the beginning of the program on Trump's credibility issue following his broken promise to repeal and replace Obamacare and the FBI revealing they are investigating possible coordination between the Trump campaign and Russia, Bernstein went to town on the president.
After stating that the pulling of the American Health Care Act on Friday showed a "level of incompetence" that Trump had previously revealed in his businesses and show biz ventures, the Washington Post veteran then weighed in on the trust factor of POTUS.
"There's almost an impossibility that Trump can regain trust," Bernstein said. "The reason is that he has lied at will all of his adult life."
He continued, "Lying has been a key element of his advance in business. He's never been known as someone who tells the truth. There's an almost pathological compulsive element to his lying."
Bernstein went on to explain that it is hard to believe he can "regain trust" when even those in the GOP who want to be loyal to him are "questioning whether he is competent and whether he's capable of any kind of truth."
Watch the clip below, via CNN:
"There is almost an impossibility that Trump can regain trust," @carlbernstein tells @brianstelter https://t.co/uKSKuSKPvu

— CNN (@CNN) March 26, 2017