'Miss Sloane' Is A Relative Political Utopia In Which Legislative Gun Control Is Possible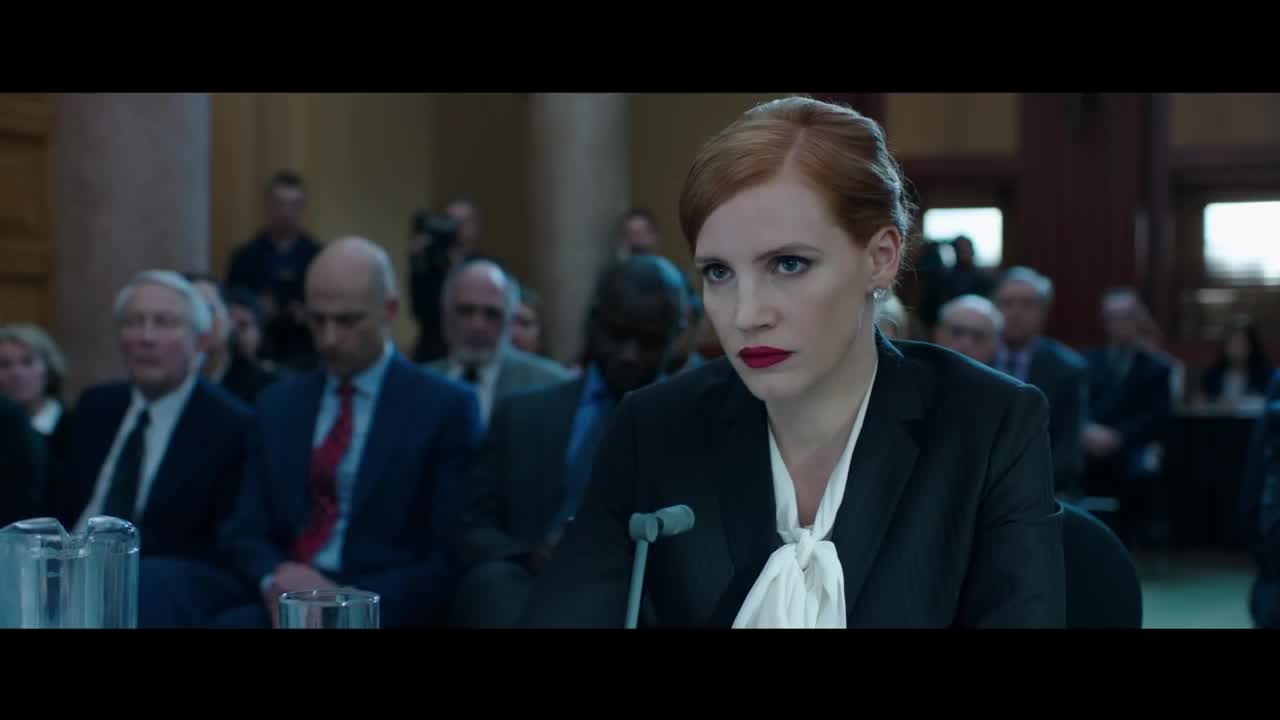 Miss Sloane is a political drama set in the hyper-competitive and ethically murky world of Congressional lobbying. This world is not very glamorous, and our protagonist's archetypal characterization of an über-careerist makes for a somewhat skeletal drama.
Compared to colleague political works, Miss Sloane lacks the perspective and warmth of The West Wing, and comes nowhere near the icy, sociopathic intrigue of House of Cards. The film strives for both, however, so that Elizabeth Sloane—a striking creation of a cinematically imposing Jessica Chastain—is scripturally shackled to a plot that ultimately and weakly softens a character who, the audience is told with conspicuous repetition, has no time for or use of personal sentimentality.
The film's twists are deft and novel, but unfortunately the film is not farfetched enough to ever be captivating. Sloane abruptly changes lobbying companies in order to take on the political controversy of the film's day—gun control—and the plot concocts a relative legislative utopia in which the gun lobby can be plausibly challenged by Sloane in order to try and pass the bare-minimum reform of loophole-closing background checks (the film's legislative ambitions aren't set very high, an irony that pessimistically contributes to the plot's blandness).
Contrasted with the machinations of America's real political dramas and controversies, this art is tamer than the reality it is based upon and to which it is suggesting critique.
Despite quality performances by the supporting cast (Mark Strong, Gugu Mbatha-Raw, Alison Pill, Sam Waterston, and John Lithgow) the film is underwhelming and the characters skim because they are not Miss Sloane. Chastain and her intensely embodied lead role drive the entire film at the expense of the audience's glimpse into the psyches of the other characters. But because the plot utilizes a somewhat large cast, Sloane's character arc—so boldly enveloped inside the specific focus of the film's title—has a "meh" tarmac landing.
Overall, this film and its political essence seems a couple presidencies obsolete, and because the film is wholly committed to legislative power-broking—there is neither appearance nor discussion of presidential existence for either lobbying strategy or epochal context, save for a curious framed photo of George W. Bush displayed in the background of Sloane's office—the film will be a dry and dull watch for any moviegoers uninterested in the chess-like tactics of lawmaking and vote-whipping.
Miss Sloane is a great vehicle for Jessica Chastain's acting abilities, but a forgettable film whose drama perhaps pales in comparison to America's real political failings.
Contemptor's grade: 6/10