SNL's 'Worst Ever Presidential Debate' Features Moderators Taking Shots And Trump Playing Jaws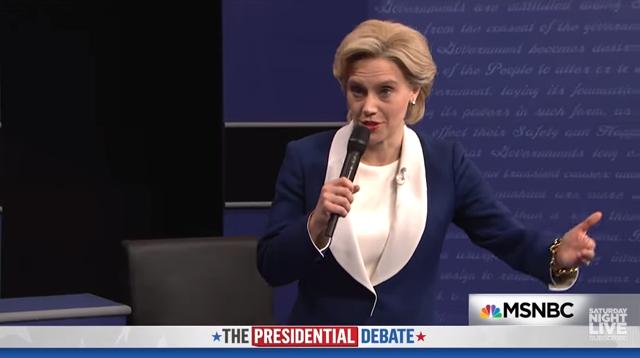 Saturday Night Live's second presidential debate once again saw Alec Baldwin playing Donald Trump with Kate McKinnon's robotic Hillary Clinton. SNL couldn't pass up an opportunity to mock the bizarre debate, showing Trump darting around the stage to the theme from Jaws. 
The sketch started with moderators Anderson Cooper and Martha Raddatz welcoming the audience 'to the second and worst ever presidential debate' before taking shots of what appeared to be whisky. "Much better, now let's get this nightmare started,"said Cecily Strong, playing Raddatz.
"Now let's welcome the candidates. Republican nominee Donald Trump and – can we say this yet? President Hillary Clinton." The candidates circled each other aggressively before settling for the town hall debate. Strong described the audience as 'undecided, uncommitted and not remotely camera ready.'
McKinnon's Clinton was typically mechanical in her attempts to appear human and said she had practiced walking towards the crowd. Baldwin's Trump was asked about his influence on children and he claimed he had helped Kevin McCalister find a hotel lobby in 'the documentary Home Alone 2: Lost in New York'.
SNL mocked Trump's attempt to upset Clinton by having Bill Clinton's accusers attend the debate. McKinnon mockingly pretended to be shocked by Bill's affairs before saying "Get real. I'm made of steel. This is nothing to me. Hi, girls!"
As Clinton answered a question about Obamacare, Baldwin wandered around the stage as the Jaws theme played, mimicking Trump's movements in the real debate. Trump was forced to answer a question from an African-American audience member and claimed Clinton had 'committed so many crimes, she's basically a black'.
You can watch the sketch below.