"He's A Genius!" Rudy Giuliani Responds To Trump Losing Nearly A Billion Dollars In A Year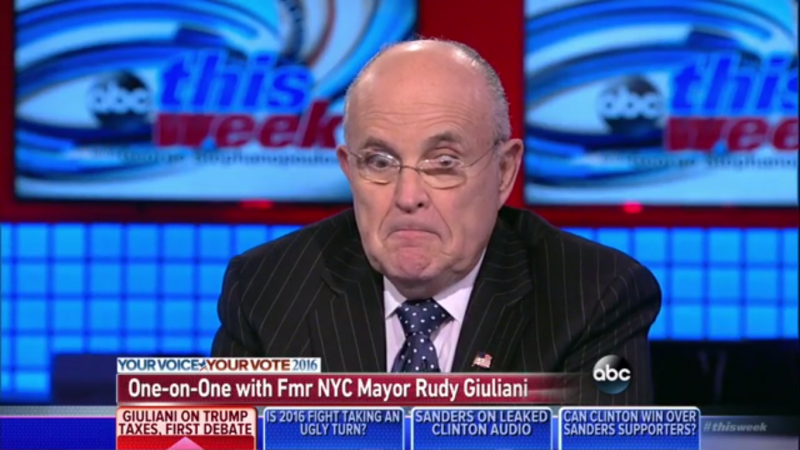 For some people, their sycophancy knows no bounds.
The morning after the New York Times released a bombshell story revealing that GOP nominee Donald Trump reported a loss of $916 million on his 1995 tax return, meaning he would've been able to avoid paying income taxes for the next 18 years, Trump surrogate and adviser Rudy Giuliani appeared on ABC's This Week to discuss.
Speaking to host George Stephanopoulos, the ex-New York City mayor made sure he had Daddy's back by not only defending how Trump handles his taxes, but by heaping praise on the real estate mogul turned Republican standard-bearer. After the ABC host asked him what his response was to the report, Giuliani exclaimed, "My response is, he's a genius!"
A dumbfounded Stephanopoulos uttered, "A genius?" Rudy reaffirmed and proceeded to talk about how Trump had some business failures, took a huge loss, regrouped and then built an empire.
Rudy Giuliani on Trump tax revelations: "Every great man has had failures." #ThisWeek pic.twitter.com/z0s4OhhERB

— ABC News Politics (@ABCPolitics) October 2, 2016
He also stated that as a business owner "you have an obligation to maximize the profits." So claiming you lost nearly a billion bucks is maximizing profits? Either Trump sucked ass at business so bad that he was a billion dollars in the hole by the mid-90s and had to bank on the taxpayers to bail him out, or he lied about it, claimed he lost the money and then rode the backs of taxpayers to help build his business.
Descriptions that come to mind for these actions are scummy, devious, low-down and derelict. One that doesn't is genius.
Below is video of the exchange, courtesy of ABC News:
Rudy Giuliani responds to Trump tax revelations: "He's a genius" #ThisWeek https://t.co/ptYCKM042u

— This Week (@ThisWeekABC) October 2, 2016