Keith Olbermann: Donald Trump's Secret Plan To Defeat ISIS Is That There Is No Plan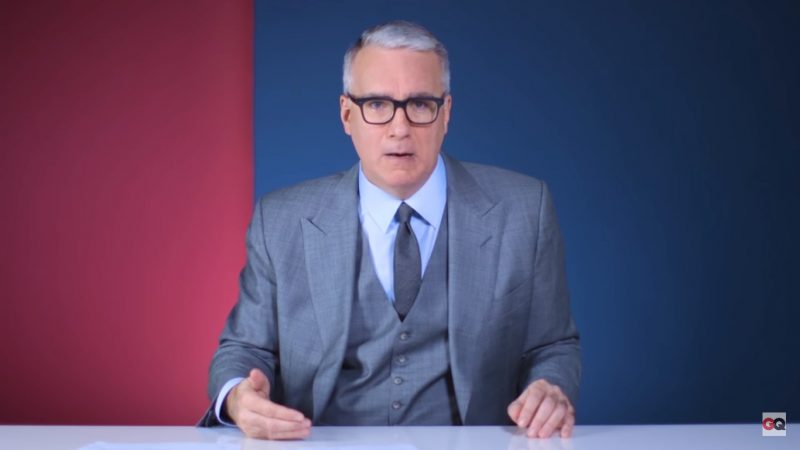 During the latest broadcast of Keith Olbermann new GQ web series The Closer, the former MSNBC anchor went after GOP nominee Donald Trump over the real estate mogul's insistence that he has a secret plan to defeat ISIS that he'll only reveal if he's elected.
As Keith highlighted in the fifth episode of his digital show, Trump has been doing this King Lear bit for 16 months now. Weeks before he officially announced he was running for president, the former reality TV star told Fox News that he had a foolproof plan to eradicate the terror state, but wouldn't tell anyone yet.
"If I run, and if I win, I don't want the enemy to know what I'm doing," Trump said of the Islamic extremist terrorist group that has been steadily causing trouble in the Middle East. "Unfortunately, I'll probably have to tell at some point, but there is a method of defeating them quickly and effectively and having total victory."
"All I can tell you it is a foolproof way of winning, and I'm not talking about what some people would say, but it is a foolproof way of winning the war with ISIS," he said. "And it will be absolutely, 100 percent –they'll at minimum come to the table but actually they'll be defeated very quickly."
He's continued this charade for more than a year, regularly saying that he has this plan, which basically entails being tough and strong and smart, and that when he's elected, ISIS and other terrorist groups will no longer be a threat. Olbermann rattled off a number of his quotes stating the secret plan until he got to the one earlier this month where Trump said his plan was to have a bunch of generals come up with a scheme within 30 days of his election.
This all hit peak idiocy with Trump's appearance on Fox & Friends Monday where he told silly grin connoisseur Steve Doocy that the plan involves leadership. Leadership of the tough kind.
Doocy: Okay. Change the playbook. How?
Trump: We're going to have to do something extremely tough over there.
Doocy: Like what?
Trump: Like knock the hell out of them. We have to get everybody together and and we have to lead for a change. Because we're not knocking them. We're hitting them every once in a while. We're hitting them in certain places. We're being very gentle about it. We have to be very tough and you have other countries who are getting devastated far more than we are and you have to get them together. It's called leadership. They have to fight. They have to fight the battle. The battle is over there. And we have to fight the battle and we can't let any more people come into this country and when we have bad ones ― we have people going over fighting for ISIS and coming back and we know they are fighting for ISIS and we take them. Once you leave this country, you fight for ISIS, you never come back.
Olbermann essentially parroted Democratic nominee Hillary Clinton regarding the ex-Apprentice host's secret strategy — he has no plan. None at all. We know it. He knows it. And ISIS and other radical organizations most of all know it.
Because, if he was really holding on to a foolproof infallible plan, shouldn't he be condemned for not even passing it onto military brass these past few months, especially considering the hundreds of people who have died in Europe and America over that time in terror attacks? If this strategy will utterly destroy terrorism, Why has he allowed those people to be murdered?
Below is video of the episode: