Trump Whines About Black Female Pastor Who Stopped His Hillary Rant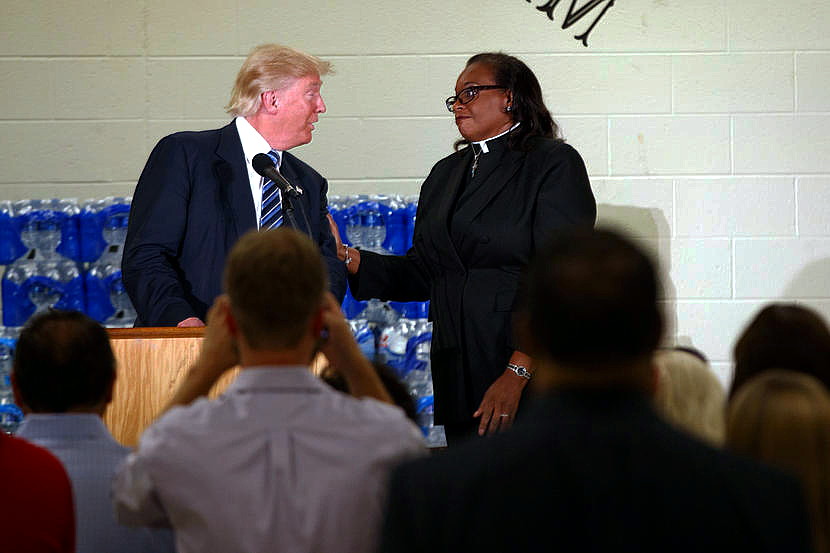 Donald Trump doesn't like women, he doesn't like blacks and he is a hypocrite when it comes to religion.  Also, he can't stand being reproached for anything by anyone, much less an African-American, female pastor.
The embarrassing deed happened during his unsolicited visit to Flint, Michigan on Wednesday.  The GOP presidential candidate dropped by Bethel United Methodist Church in a predominately black neighborhood, which was adversely impacted by the lead-tainted water debacle in 2014, at the invitation of Rev. Faith Green-Timmons.
Rev. Green-Timmons politely interrupted Trump's speech to a few dozen churchgoers, because he was supposed to be talking about concerns for the deplorable and deadly situation Flint residents experienced—instead of bashing Hillary Clinton with the same tired political stump speech.
"Mr. Trump, I invited you here to thank us for what we've done in Flint, not give a political speech," she said.
Trump seemed to acquiesce at that moment, but wasted no time insulting the Green-Timmons at his very first opportunity the next morning during a Fox and Friends interview.
He tried to make her out to be a scatter-brained, plotting, nervous-nelly, who was purposely playing "games" with him.
"When she got up to introduce me, she was so nervous she was shaking and I said, 'Wow this is sort of strange,'" he said during his interview. "And then she came up. So she had that in mind, there's no question about it….everyone plays their games."
Then true to Trump's penchant for making up bullshit as he goes, the candidate said the audience was rooting for him by saying, "Let him speak, let him speak."
The fact that there was no proof to back up his statement on video or otherwise, as reported by NPR, has never stopped Trump from making up whatever story he wants, because he knows his friendly audience won't challenge a word that comes out of his lying mouth.
Meanwhile, opponents of Trump remain stunned and wondering how this abysmal person could possibly be taken as a serious candidate for president of the United States of America.
Feature image by Evan Vucci/AP
***
***Seattle author, Delilah Jean Williams, wrote the award winning, 5-Star rated, Scorched Earth, Alien Wonders published in 2015. If you've ever wondered what aliens would find if they visited Earth a hundred years from now, you're going to love this book. But there's more to the earthly adventures of this group of space-
traveling aliens than just seeing what a reckless human race did to their planet.  Just like people, these interstellar voyagers know a thing or two about love, laughter, betrayal and greed that can wreak destruction on a planetary scale. Can the aliens save what's left of the doomed world and guide humanity back to a healthy relationship with their planet? Or is it too late? The answer is inside the pages of Scorched Earth, Alien Wonders… Amazon.com.
***