Kellyanne Conway Claims Trump Foundation Is Trump's Money. That Is Patently False.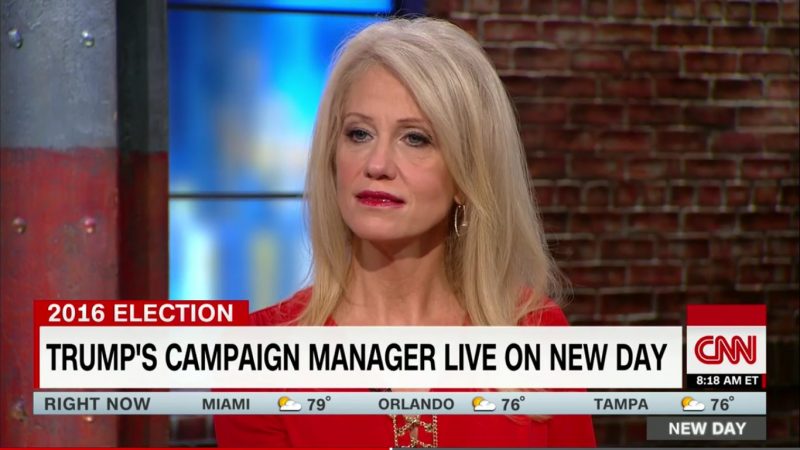 Trump campaign manager Kellyanne Conway had a tough go of it Tuesday morning during an appearance on CNN's New Day. Speaking to host Alisyn Camerota, Conway continually tried to pivot to talking about Hillary Clinton's "deplorables" comment or her pneumonia when pressed on questions about Donald Trump's charitable contributions and tax returns.
Following up the claim by running mate Mike Pence that Trump has donated "tens of millions of dollars" to charity over the years, Camerota asked Conway why we haven't been provided any evidence to show that. In the veteran pollster's opinion, reporters requesting proof isn't journalism, but "badgering."
From New Day's transcript:
CAMEROTA: I think the issue goes to transparency. Look, the issue goes to transparency and if voters can bank on what they are voting on and knowing your candidate. For instance, Mike Pence, VP nominee, said yesterday that Donald Trump has given away tens of millions of dollars to charity, but investigations can't find his personal money that has — is in the tens of millions. Do you stand by tens of millions number?
CONWAY: Donald Trump has been incredibly generous over the course of his own life.
CAMEROTA: With his own money?
CONWAY: With his own money and his foundation's money, which is his money.
CAMEROTA: No, the foundation's money are other people's.
CONWAY: OK. He's been incredibly generous.
[…]
CAMEROTA: Well, Donald Trump, part of why people are calling for him to release his taxes so we do know how much he himself has given to charity. Will you or the campaign release exactly what that number is? And the reason I ask —
CONWAY: I doubt it.
CAMEROTA: Why would you doubt it?
CONWAY: I doubt it, because this is like badgering. In other words, I don't see it as journalism. I see it as badgering.
In other words, we've had this conversation so many different times on so many different networks and yet we're not having conversation about what the middle class tax relief would actually mean for people's wage stagnation, a chronic problem —
CAMEROTA: But we do have that conversation at other times, but how is it badgering to a for the evidence of a claim? If Mike Pence is saying tens of millions of dollars from Donald Trump, shouldn't we see the evidence?
CONWAY: Did anybody ask Hillary Clinton for evidence that she was overheated and dehydrated? Is anybody asking her for evidence of why she thinks she's precious and special that she would have the secret service break protocol at Ground Zero on Sunday, Alisyn, and take her to her daughter's apartment rather than a hospital?
I mean, who are these people that there's always a different set of rules for them, we're always suppose to look at the other way. This network and other networks where presumptively protecting her and saying that she is fine —
CAMEROTA: That's not fair, Kellyanne.
Remember how Kellyanne was supposed to bring a softer touch and a more moderate edge to the Trump campaign? Yeah, she sounds just like a Breitbart comments section here. Also, her belief that the Trump Foundation money is Trump's own personal cash is just false. The Washington Post's David Fahrenthold has been doing Pulitzer-level reporting on Trump's charitable givings and discovered that Trump hasn't contributed to his own charity since 2008.
After this interview aired, Fahrenthold published a piece in WaPo refuting Conway.
From all available tax records, that is not true.
In fact, tax records show Trump has not given any money to his namesake foundation since 2008. Instead, Trump retooled his foundation to give away other people's money: Since 2008, Trump has taken in millions from donors and given it away under his foundation's name.
The Washington Post described the workings of the Trump Foundation in an article Sunday. Tax experts said they had rarely seen a charity like this, which defied the convention that wealthy people start private foundation to give their wealth away. Instead, the Trump Foundation allowed Trump to retain the appearance of generosity without giving away a dime of his own.
It's possible that Conway knows something that is not yet public, and has seen proof Trump has donated his own money to the Trump Foundation in 2015 or 2016. The foundation has not released information about those years, and its public tax filings only go up to 2014. The Post has asked repeatedly — including again Tuesday morning — for information about any such recent donations.
The Trump campaign has not responded to those questions.
Following up Conway's attempt to spread conspiracy theories about Hillary's health in order to distract from questions about Trump's taxes and charity, Camerota pushed forward and tried to force Conway to address the topic at hand. While Conway still obfuscated, in the end, Camerota just made her look foolish. Like every other Trump lackey. Which is something you know Conway hates, deep-down.
CAMEROTA:  I just don't buy that that claim that is coming from the Trump campaign.  We ask a lot of questions of the Clinton campaign but when you're here representing the Trump campaign, we ask these questions because you also can't just keep make claims and expect everyone to just accept it.  So the idea that — 
CONWAY:  I think Donald Trump's a very generous man.  
CAMEROTA:  Yes, and what's the evidence?  
CONWAY:  To have employed tens of thousands of people from many different countries, both genders certainly, from all walks of life, over the years.  
CAMEROTA:  Sure, but that's not charity.  Employment is not charity.  
CONWAY:  It's pretty darn impressive and it isn't the political resume that his opponent has.  
I would respectfully say, because we love to play a parlor game at Trump Towers, campaign headquarters, it takes the average Clinton surrogate or campaign staffer ten seconds or ten words to talk about Donald Trump when you ask them a question about Hillary Clinton and I can't blame them.  If she were my candidate, I wouldn't want to talk much about her either.  
CAMEROTA:  But you are talking a lot about her.
Alisyn Camerota for the win.
Below is video of the segment, courtesy of CNN: