NPR's Cokie Roberts Irresponsibly Floats Rumor That Dems Are Looking To Replace Hillary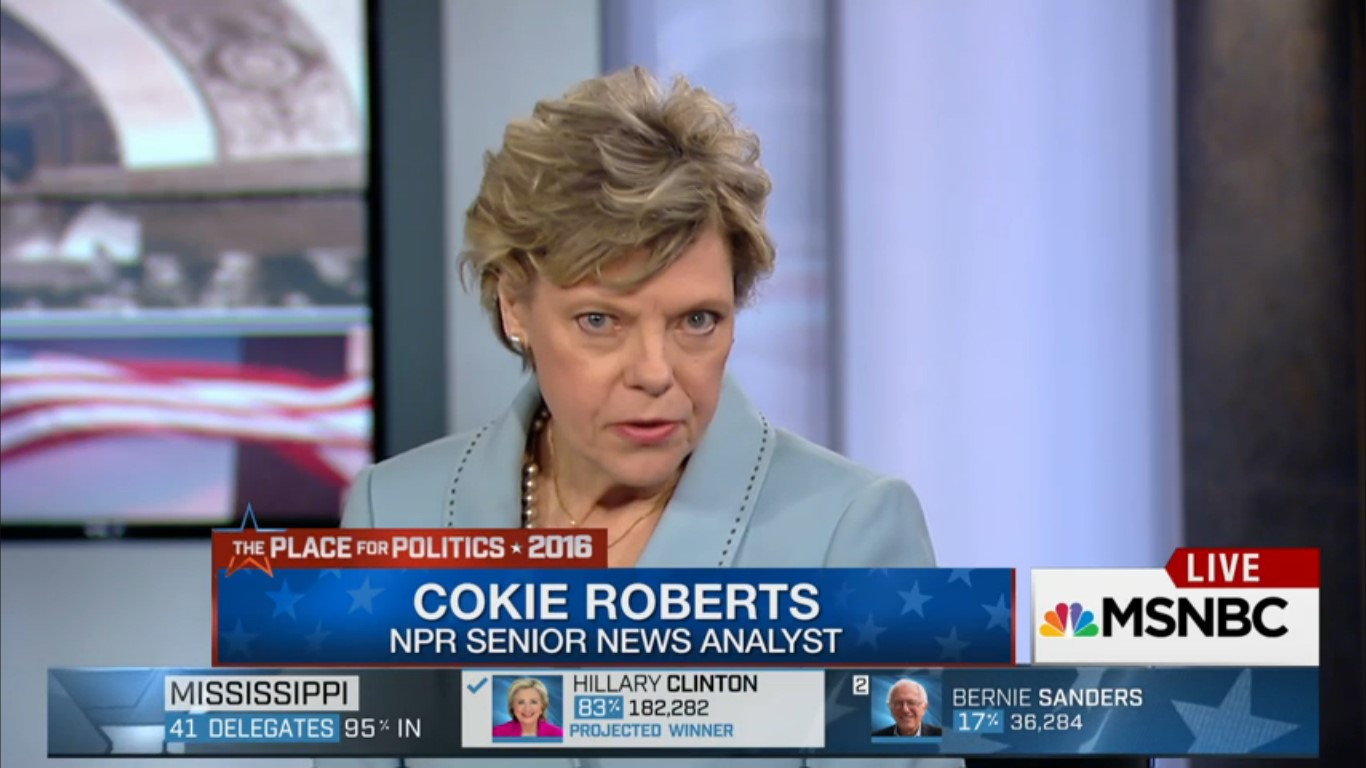 While we fully expected all kinds of baseless speculation and super hot takes Monday morning regarding Hillary Clinton's pneumonia diagnosis that caused her to leave the 9/11 memorial services a bit early, we figured they would come from Fox & Friends and Morning Joe. Yet, the worst kind of bottom-feeding, rumor-mongering came from the unlikeliest source of all — NPR.
During a segment on Morning Edition, respected reporter and author Cokie Roberts must have thought she was on a Breitbart podcast as she decided to engage in some rank conjecture for the sole purpose of creating a controversy. Discussing how many Democrats are now concerned following a weekend that included Clinton's "basket of deplorables" comment and the revelation of her illness, Roberts said Hillary taking a couple of days off the campaign trail may be the final straw.
"It's taking her off of the campaign trail…It has them very nervously beginning to whisper about her stepping aside and finding another candidate."
When asked if she thought this was likely, Roberts did say no, but then CONTINUED to speculate, stating the DNC has already looked into the possibility of replacing Clinton late in the game. She further pointed out that Vice-President Joe Biden would be the choice if Clinton were to drop out. It was also discussed how Dems feel that Clinton is the only possible candidate that could conceivably lose to Donald Trump and are now having cold feet after a bad weekend and close polls.
Slate's Jamelle Bouie was highly disappointed in Roberts going TMZ gossiper:
Folks make this kind of irresponsible speculation and then wonder why no one trusts the press. https://t.co/V92ry5HexX

— Jamelle Bouie (@jbouie) September 12, 2016
But, of course, conservatives were DELIGHTED that she helped lend credence to their conspiracies:
This was on NPR and not from a conservative site or right leaning commentator – https://t.co/qC0S7xcAOh

— Bret Baier (@BretBaier) September 12, 2016
Look, if you're a liberal and you're reduced to attacking Cokie Roberts for being an anti-Democrat hack, realize how deep in denial you are.

— Drew McCoy (@_Drew_McCoy_) September 12, 2016
Still nearly two months left in this election. Each day is going to be even worse going forward.