Giuliani Tries To Gaslight America, Claims Trump Denounced Birtherism "Three Years Ago"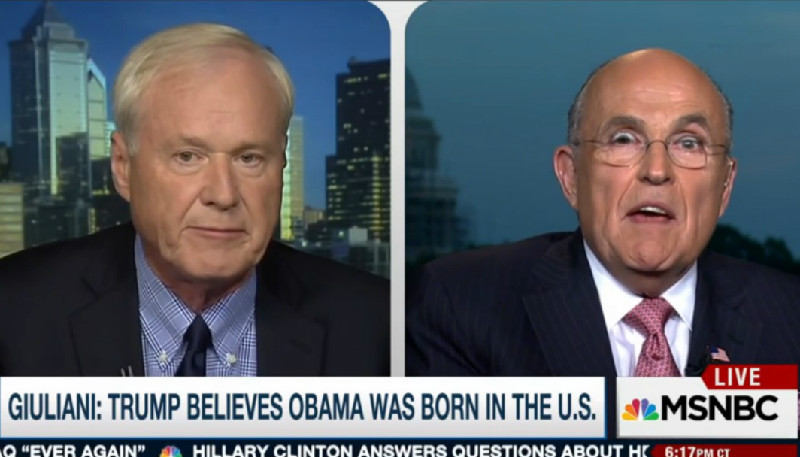 The long, slow descent from America's Mayor to crazy old coot caping for a racist buffoon continued unabated Thursday night for Rudy Giuliani.
Appearing on MSNBC's Hardball, the ex-NYC Mayor turned Donald Trump lackey made the completely bullshit claim that Trump had denounced his birtherism two to three years ago. This led to a minutes-long argument with host Chris Matthews, who knew full well that Trump never did any such thing (as does all of America).
Following a lengthy discussion about Trump's love of all things Vladimir Putin, which Giuliani defended, Matthews pressed Mr. 9-11 on Trump's birther past. Following statements from Trump's running mate Mike Pence and surrogate Ben Carson where they've said President Obama is legit, the Hardball host wanted to know if Giuliani believed the GOP nominee should do the same thing. That's when the senior Trump adviser attempted to gaslight the entire country.
The exchange went as follows:
MATTHEWS: I have to ask you one last question. I know you don't like the question but I think it's appropriate given that you're a major, as you've just demonstrated, a strong surrogate and defender of the candidacy for President of Donald Trump. A couple of his people, including Vice Presidential running mate Mike Pence, Governor of Indiana, and of course Dr. Ben Carson, have both come out in the last days, hours actually, to say they believe that President Obama is a legitimately elected President of the United States. In other words, he was born in the United States. Do you confirm that? Do you agree with that?
GIULIANI: I confirm that and Donald Trump confirms that. You know Hillary…
MATTHEWS: When did he do that?!?! When did he do that?!?!?
GIULIANI: He did that two years ago.
MATTHEWS: When did he do that?
GIULIANI: Two years ago. Three years ago.
MATTHEWS: He has now accepted that birtherism is nonsense?
GIULIANI: Look, Hillary Clinton's campaign…
MATTHEWS: When did he do that?
GIULIANI: Chris, Hillary Clinton's campaign…
MATTHEWS: He did not do that. I'm waiting for him to do it.
GIULIANI: Hillary Clinton's campaign was the first one to bring up there was a question…
MATTHEWS: Where did they do that? Where did they do that?
GIULIANI: Donald Trump has said that. Uh, three, four, five years ago.
MATTHEWS: Give me an example of that. You just said Hillary Clinton accused the President — has Hillary Clinton ever accused the President of being foreign born?
GIULIANI: Her campaign did this during the primaries.
MATTHEWS: Her campaign? The Hillary for President campaign?
And it went back and forth like this for a bit longer. Eventually, Matthews straight-up told Rudy he was wrong, letting him know that he made sure his producer verified that no one from Clinton's campaign back in '08 was ever involved with spreading birtherism. Giuliani would continue to say Trump believes Barack Obama was born in Hawaii and wanted people to give The Donald credit for putting the birther issue to bed by forcing Obama to produce his birth certificate.
But, here's the thing. At last year's CPAC, a few months before he would announce his candidacy for POTUS, Trump questioned the validity of the birth certificate. That was 1-1/2 years ago. Also, within the past three years, he's tweeted about Obama's college transcripts, hinting that the release of them will show the President was not born in the US.
This is all easily verifiable, which makes one wonder just what the hell is wrong with Rudy. If Trump had made a public statement denouncing his birtherism, then we would see that played on cable news and Trump would have tweeted about it non-stop during his Black Panderfest 2016. But, alas, there is no such statement. Which is why Trump just brushes off inquiries by simply saying, "I don't talk about it anymore."
Below is video of the segment, courtesy of MSNBC: