GOP Senator Jeff Flake Won't Vote For Trump, Sees Hillary Clinton Winning Arizona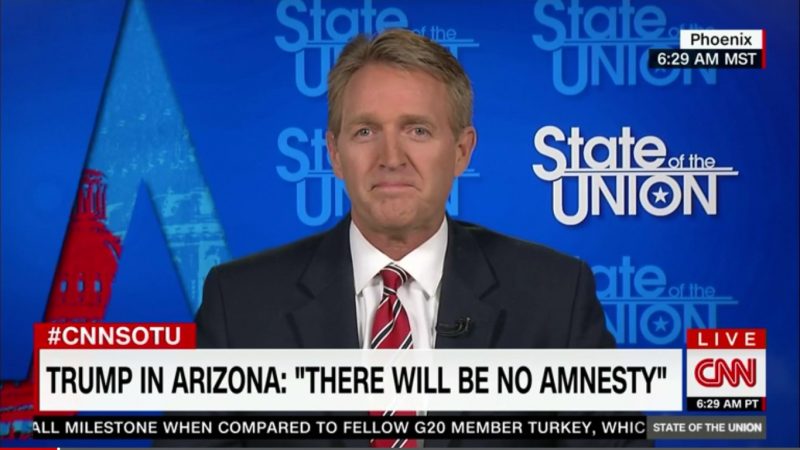 While Sen. Jeff Flake (R-AZ) has made sure to explain that he isn't necessarily in the #NeverTrump movement of conservatives, he has been openly critical of GOP nominee Donald Trump over the past few months. He warned other Republicans to withhold their endorsements after Trump secured the party's nomination during the summer, explaining that the real estate mogul simply cannot win in November.
In an interview with CNN's Jake Tapper Sunday morning, Flake appeared to fully become a #NeverTrumper when he said he simply cannot vote for Donald Trump. At the same time, he pointed out that he wouldn't be supporting Hillary Clinton, instead looking to write in a name in on his ballot.
"You can always write somebody in. So, I just know that I would like to vote for Donald Trump. It's not comfortable to not support your nominee. But, given the positions that he has taken and the tone and tenor of
his campaign, I simply can't."
The GOP Senator also told Tapper that Trump's big immigration speech was a step back, as all he did was embrace the positions he had taken at the beginning of his campaign. Flake thought it was "pretty remarkable" that the RNC didn't praise the speech of their nominee, but then again, the content and delivery left them no choice. Regarding Rudy Giuliani's take that the speech presented a moderate policy that didn't allow for mass deportations, Flake said that part must have been buried really deep in the speech, because he didn't notice that.
Finally, regarding the recent news that Clinton is committing to a six-figure ad buy in his home state, Flake indicated that it is very possible that she'll be able to flip the state blue due to Trump's rhetoric.
From State of the Union's transcript:
TAPPER: So Hillary Clinton's campaign, after the speech in Arizona, as I'm sure you know, announced that they were going to take out a six figure ad buy in Arizona. It's been 20 years since the state went for a Democratic presidential nominee. But take a look at this CNN poll. It shows Trump ahead of Clinton, but only by 5 points.
Do you think that Trump is comfortably ahead or does Clinton have a chance of winning Arizona?
FLAKE: Well, they shouldn't be close. You know, we went big, I think 8 points for Mitt Romney, last time. Arizona should still be a red state. But Donald Trump, with the rhetoric that he's under and the characterizations of, you know, many of the state's population, have put the state in play. And unfortunately, you know, that leads to Democrats spending a lot of money here, unfortunately for Republicans.
I think John McCain will be fine. He did very well in the primary last week. A lot of the down ballot Republicans will be fine, as long as they aren't see as, you know, believing the same things that Donald Trump believes in.
TAPPER: So you think Hillary Clinton could win Arizona, potentially, because of Donald Trump's rhetoric?
FLAKE: Yes, I do.
Only a matter of time before Trump shoots a mean tweet Flake's way, learnin' him real good.
Below is video of the interview, courtesy of CNN: