Political Expert Larry The Cable Guy Tells Fox News "Hillary Will Be The End Of The Country"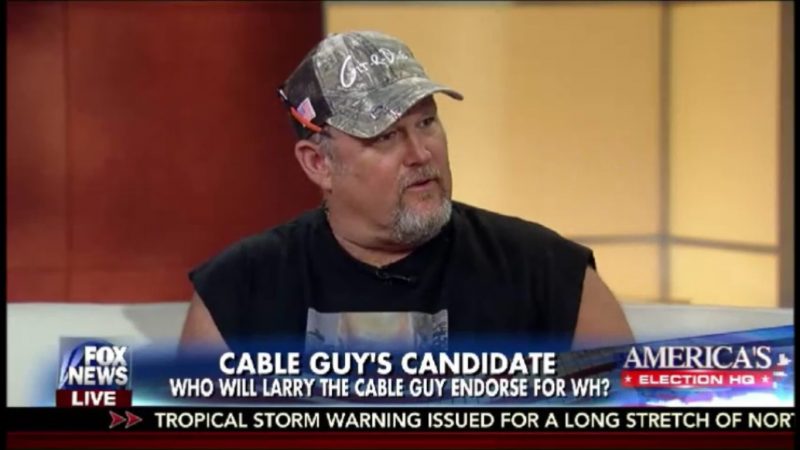 If there's one thing Fox News loves doing, it is turning to C-level celebrities to express their hatred of all things Obama and deliver some well-nuanced political commentary. Whether it be Scott Baio, Dean Cain, Janine Turner, Kevin Sorbo or someone else you haven't seen in primetime in decades, you can always expect a heaping helping of derp mixed in with some big words they wrote on their palms.
Perhaps the biggest name in this Hollywood Squares-level cavalcade of talent is Larry the Cable Guy. A frequent guest of Fox & Friends due to his ability to crack up the hosts with his repeated use of the word "poop," the comedian showed up on set again Tuesday to discuss the presidential race because of course.
He got the curvy couch sitters guffawing by pointing out that deciding between Hillary Clinton and Donald Trump was like asking, ""Do I want to poop my pants or do I want somebody else to poop my pants?" He decided that he wanted to poop his own pants, so he'd be settling on Trump.
After that HI-LARIOUS joke, Larry then lamented about how he steered away from too much political humor on the road because people took it all too serious. He said that social media had made things worse regarding rhetoric with everyone tossing out insults and making it too frustrating to have a civil conversation. Then, without skipping a beat, the comic unironically said, "Hillary will be the end of this country."
Don't ever change, Fox.
Below is video of the segment, courtesy of Fox News:
"Hillary will be the end of the country." -Larry the Cable Guyhttps://t.co/qRzwZA23yv

— FOX & Friends (@foxandfriends) August 30, 2016