Fox News Tricked A Young Brian Stelter Into Thinking One Of Their Staffers Liked Him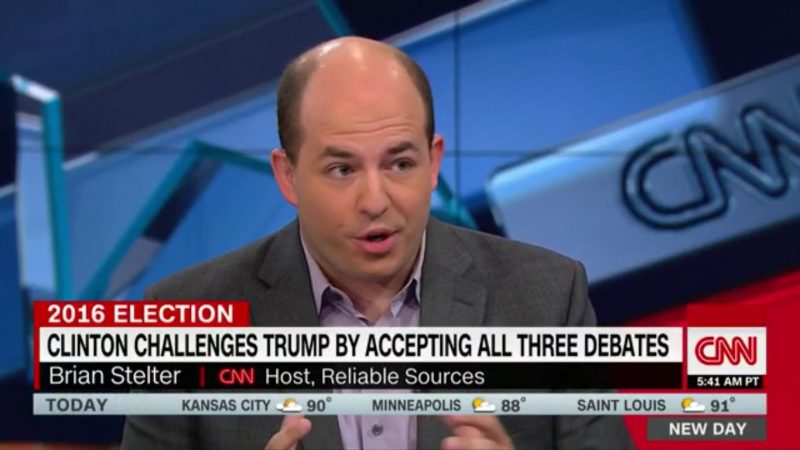 A subplot that has emerged from the Roger Ailes sexual harassment scandal at Fox News revolves around Ailes's use of network resources to spy on journalists. Ailes, who worked as a media consultant for Richard Nixon back in the day, apparently set up a 'black room' to gather intel on both competitors and employees of the network. Using company funds, he paid operatives, private investigators and network staffers to get dirt on those he considered enemies so he could potentially use it against them in the future.
Gabriel Sherman of New York Magazine, who was one of the targets of Ailes's negative PR tactics due to his coverage of Fox and its chief, reported on the spying operation on Sunday. In his piece, he provided some of the journalists and reporters who were targeted, which included those working for Gawker. During a Tuesday morning segment on CNN, media critic Brian Stelter pointed out that he was once spied on by Ailes's staff.
Discussing the reports about how Ailes ran a Nixonian political operation at Fox News, Stelter recounted how when he was a college student running the influential media blog TVNewser a decade ago Fox sent a low-level staffer to report on him. She did that by pretending to date him.
"In terms of the money, this is Gabriel Sherman's reporting in New York Magazine. He's been a leader on this story, wrote a book about Roger Ailes a number of years ago. A lot of what he's reporting I think reporters have suspected for a while. I'll give you an example. About ten years ago I had a crush on a woman at Fox News. She was a low level staffer. I was in college at the time. So I was going out on what I thought were dates.
Chris, I thought these were dates. These were not dates. She was actually reporting back to Fox News about me. She was reporting back about what I thought of her and about CNN and MSNBC and Fox. Because I was a reporter on the beat, they were actually spying on me that way. Now I didn't think that was a big deal at the time. I thought it was the way Fox operates. Fox is a political organization. But now we know they were actually sending out private investigators. They were tailing other reporters."
Awwww. Poor, young, naive Brian Stelter. Someone at Fox found out he was sweet on a girl in their office and Roger Ailes decided to use that as his inroads to dig up some info on a young blogger.
After the segment aired, Stelter elaborated on Twitter, providing a few more details.
Well, I *thought* we were going on dates. I was naive. A low-level staffer was gathering intel for Fox PR and Ailes https://t.co/ha11LuKQ2x

— Brian Stelter (@brianstelter) August 9, 2016
This happened when I was in college & running @TVNewser in the mid-2000s. Fox PR (wisely, I think!) paid a lot of attention to my blog.

— Brian Stelter (@brianstelter) August 9, 2016
I found out a year later, after she left Fox. No hard feelings. I don't think it was even an "effective" operation https://t.co/QD46s1G2uh

— Brian Stelter (@brianstelter) August 9, 2016
In other words, Stelter didn't get very far with the Fox employee and she didn't have the heart to dish out any dirt on Stelter to Fox. Considering she was even able to find anything worth dishing.
Regardless, I have to agree with Media Matters here. Even if nothing much came of the spying, this story is insane, and shows once again the level of duplicity, mendaciousness and paranoia that surrounded Ailes and Fox.