Ex-CIA Director: Trump's A "Clear And Present Danger," Should Be In A "Police Wagon"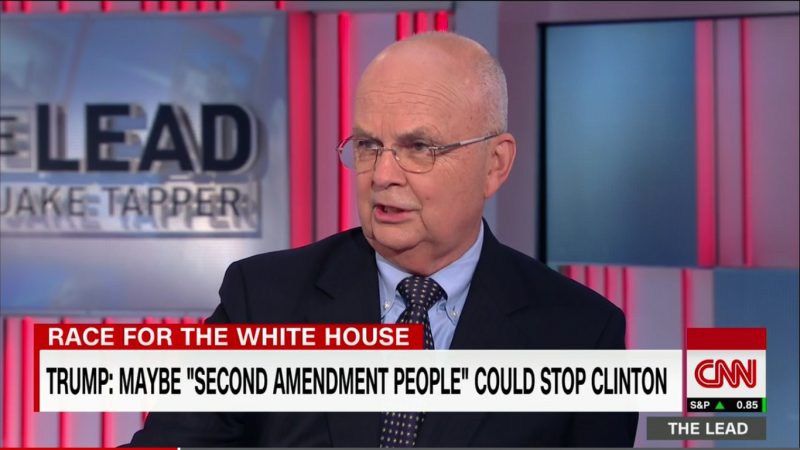 Well, I guess we all should have seen this coming.
During a Tuesday rally, GOP nominee and deranged circus peanut Donald Trump, after spending days telling everyone that the upcoming election is going to be rigged, and following a Republican convention where his supporters yelled "Lock her up!" at the mention of Hillary Clinton, told the crowd that if Clinton is the one picking Supreme Court judges, then they'd have to use Second Amendment remedies.
Video—Trump: "If she gets to pick her judges —nothing you can do…Although the 2nd Amendment people maybe there is" https://t.co/eeofxE9qL4

— Bradd Jaffy (@BraddJaffy) August 9, 2016
Now, we've been used to media firestorms surrounding The Donald, especially of late. But none of them have involved him issuing a death threat to his opponent in race for the White House. The reaction from everyone was as one would expect — complete and utter disbelief. Shortly after Trump's remarks, former CIA Director and four-star General Michael Hayden spoke to CNN's Jake Tapper.
Initially scheduled to talk about the open letter he signed with other Republican foreign policy experts denouncing Trump, Hayden was first asked his opinion on what Trump had just said. His response:
"Well, Jake, as you and I were just commenting, were both native English speakers, and when I heard that for the first time that was more than a speed bump, alright? At that — actually a very arresting comment, and it suggests either a very bad taste reference to political assassinations at an attempt at humor, or an incredible insensitivity. It may be the latter. An incredible insensitivity to the prevalence of a political assassination inside of American history, and that is a topic that we don't ever come close to even if we think we're trying to be lighthearted.
[…]
Well, let me say, if someone had have said that outside the hall he'd be in the back of a police wagon now with the Secret Service questioning him."
Yup. No ifs, ands or buts. Anyone else making these comments, especially in a public arena, would at the very least be the subject of an investigation by law enforcement. But, since this is the Republican standard-bearer and a major party candidate for the highest office of the land, it won't be the case. Especially since Trump and his loyal sycophants are busy gaslighting the American public on what their lying eyes and ears told them.
Later on in the interview, regarding his participation in the letter, Hayden told Tapper that he doesn't care if conservatives see it as helping Hillary because they have to warn others when they see a "clear and present danger."
From The Lead's transcript, via CNN:
TAPPER: And, what about the response? Hey, you're helping elect Hillary Clinton?
HAYDEN: Look, we got to call balls and strikes the way we see them, alright? We all felt strongly enough about what we believe to be a clear and present danger that we felt compelled to say what we said. But, we also put in the letter, Jake, and I'm sure you noticed it, was not an endorsement for Hillary Clinton, and then, comma, a lot of us do not intend to vote for her either.
TAPPER: You just called Donald Trump a "clear and present danger."
HAYDEN: Well if he governs in anyway close to the language that he has used in the campaign I fear for our future.
Indeed, General Hayden. Indeed.
Below is video of the segment, courtesy of CNN: