CNN Host: Trump Doesn't Get A "Gold Medal" For Revising His Made-Up Iran Video Claim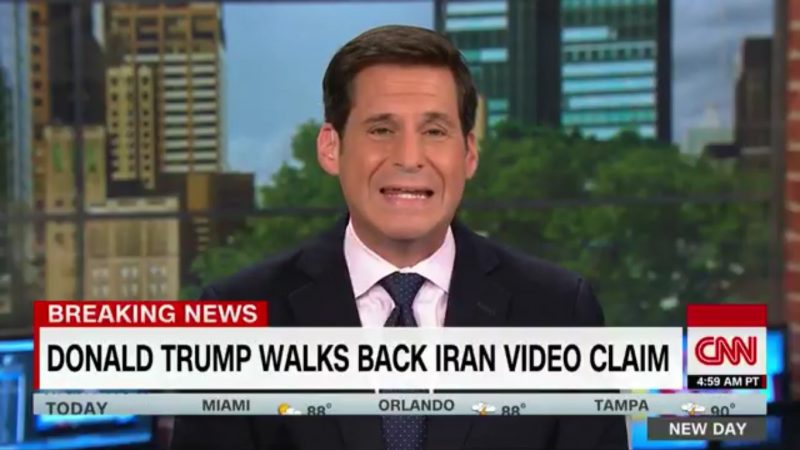 Early Friday morning Donald Trump did the unthinkable — he admitted he was wrong. Well, sorta. After spending two days spinning a yarn about seeing a nonexistent video of $400 million in cash being loaded off of a plane in Iran, Trump sent out a tweet stating that the video he had seen was actually of hostages exiting an aircraft in Geneva.
The plane I saw on television was the hostage plane in Geneva, Switzerland, not the plane carrying $400 million in cash going to Iran!

— Donald J. Trump (@realDonaldTrump) August 5, 2016
Now, you'll notice he never said he had told a lie when telling audiences at his rallies that he personally saw money being taken off of a plane, that the video was propaganda provided to the United States to humiliate us, and that the cash given to Iran was ransom money used to secure the hostages who were there at the same time. Nope. He's just stating that the plane he saw on TV was the one with the hostages. Nothing more.
Well, it would seem that many folks were looking to pat Trump on the back for finally acknowledging a mistake. One person who pointed out that Trump deserves no credit for kinda fessing up about telling a bald-faced lie was CNN anchor John Berman. During Friday's broadcast of New Day, Berman reminded co-host Poppy Harlow that the GOP nominee doesn't get a "gold medal" for revising a story that he made up in the first place.
From Media Matters' transcript of the segment:
POPPY HARLOW (CO-HOST): All right. So, Phil, stay with us. Let me bring back international security correspondent Jim Sciutto as well. A lot to parse through this morning including all these new polls. But just to get what Jim called "revisionist history," which I think is the best way to describe it, Phil, do you think that this is coming, this about face is coming because finally, he is listening to his team, and he's seeing it in the numbers? He is seeing polls where he is as much as 15 points behind Clinton, and for the first time, listening to them? Remember, he didn't revise his response to the Kahn family last week despite all of the drama that ensued, but now he is.
[…]
JOHN BERMAN (CO-HOST): But just to be clear, you don't get some kind of gold medal for admitting or revising what you're saying about a video that you made up that doesn't exist, Jim. I mean, you've been talking to diplomats, Secretary of State John Kerry commented yesterday, they almost don't even know how to respond to this because Donald Trump invented a scene that never happened.
EXACTLY. Trump pissed on the carpet. He shouldn't get a treat for pointing out the piss a couple days later while still not cleaning it up.
And if you actually think Trump is going to admit he's wrong, take a look at his Twitter account Friday afternoon. He started retweeting articles from Trump-friendly publications like Breitbart that claim that a video does exist of the cash, which was money owed to Iran by the US since 1979, being unloaded from the plane. So we know Trump isn't going to back off of his initial claims of seeing this tape. (Just like the thousands of American Muslims dancing in the streets.)
Below is video of the segment, courtesy of Media Matters: