Former Top Aide To Chris Christie: "I'm Voting For Hillary Clinton In November"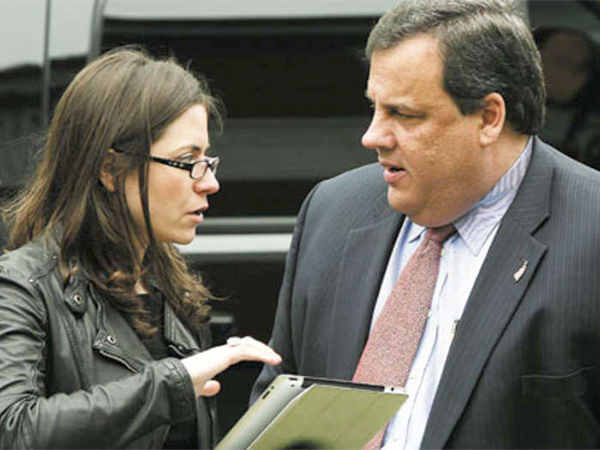 Over the past few days, in the wake of Donald Trump's feud with the Khan family, notable Republicans have been making it known that they will not be voting for Trump in November. However, unlike all of the #NeverTrump conservatives who will follow Ted Cruz and vote their conscience, meaning they'll likely go Libertarian or leave the presidential spot blank, these recent ones have specifically said they're going for Hillary Clinton.
Sally Bradshaw, an adviser to failed candidate Jeb Bush, announced she was leaving the GOP and will toss her vote to Hillary if polls show Florida is close. Bradshaw has been a loyal Republican for years, dating back to when she worked on George H.W. Bush's presidential campaign in 1988. She stated that she just couldn't stand around while her party nominates a "bigot" for the White House.
There's also Republican Congressman Richard Hanna. The moderate GOPer has publicly struggled with the thought of voting for Trump for POTUS for a while now. Well, on Tuesday, he let it be known that he's endorsing Clinton. (Hanna isn't running for re-election this term.)
Add Maria Comella to the mix. In an interview with CNN's Jamie Gangel, the ex-top aide to New Jersey Governor Chris Christie stated that she cannot in good conscience vote for the former reality TV star. Despite the fact that her boss has gone all in on Trump and was in the mix to be his Veep choice, Trump's bigotry and racism make it impossible for her to support him.
When asked why she's coming out now, Comella told Gangel the following:
"I've been contemplating whether to say anything publicly for awhile. When you are used to being behind the scenes and speaking for someone else it doesn't come naturally. For me, I think that it's a culmination of watching Donald Trump purposely play to our worst instincts and fanning those flames. We can't survive as a party if we don't try to elevate the conversation and lead. If those of us who believe that Donald Trump shouldn't be President don't say anything, we are just part of the same problem."
Regarding her thoughts on Trump's comments about the family of Humayun Khan, a Muslim-American soldier who was killed in 2004 fighting in the Iraq War, Comella said she sadly was not shocked:
"I wish I could say I'm shocked, but I'm not. Donald Trump has been a demagogue this whole time, preying on people's anxieties with loose information and salacious rhetoric, drumming up fear and hatred of the 'other.' Instead of trying anything remotely like unifying the country, we have a nominee who would rather pick fights because he views it as positive news coverage. It may make him media savvy, but it doesn't make him qualified or ready to be president.
The President of the United States is charged with making some of the toughest decisions any human being should have to confront, including sending men and women to war and potentially death. We can't have a President who doesn't understand the very human ramifications of those decisions and is unable to show humility and empathy in the face of grieving parents."
Comella told CNN that she would vote for Hillary because it isn't "enough to say you aren't for Donald Trump." She feels you have to do everything possible to make sure he isn't elected. And even if she isn't happy with the selections, she understands reality of the situation, and she would encourage other GOPers who can't stomach Trump to do the same as her.
So, who's next?
Image via Politico