Scottie Nell Hughes: Hillary's Tearing Down Men By Telling Girls They Can Be President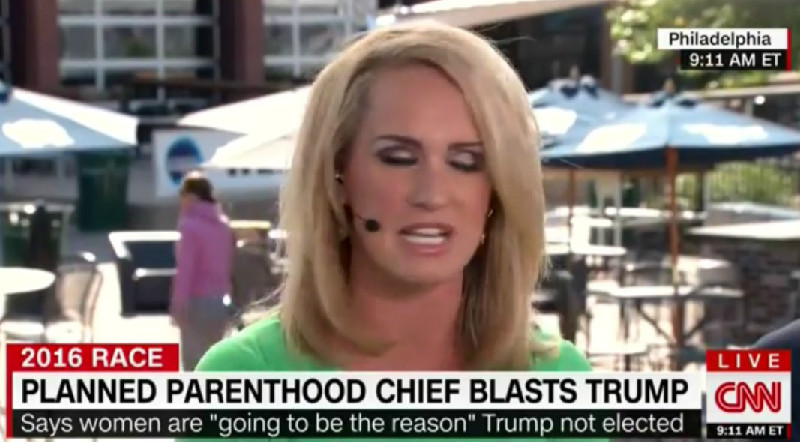 With CNN now employing four Donald Trump supporters on a full-time basis, pretty much every political panel discussion on the network devolves into pure unadulterated idiocy due to the inclusion of at least one Trumpkin. Wednesday morning was no exception.
CNN host Carol Costello moderated a conversation about the previous night's Democratic National Convention and some of the messages that were conveyed. Included on the panel was Scottie Nell Hughes, who was hired as a contributor by the network after numerous guest appearances as a full-throated Trump defender. After Costello played a clip of Planned Parenthood's Cecile Richards contrasting the historic nature of Hillary Clinton's nomination to Trump's blatant sexism, she asked Hughes her opinions. And they were as moronic as you'd imagine.
Pointing out that she disagreed with Richards' characterization that women will help Clinton beat Trump, Hughes pivoted to Hillary telling young girls that they could be president. According to Scottie, this was akin to telling young boys that they couldn't lead the country.
"Hillary Clinton, when she was in that room of girls, said if you're a daughter or if you're a girl you could be president too. This would have been an excellent opportunity to say, 'You know what, whether you are a boy or a girl, both of you, my job will be to make sure it's equally an option for both of you.' That's the problem. We've continued to say we want equality, we want equal but we then tear down one group and tried to build up another. That's what I heard last night."
Costello, with a look of obvious confusion, asked the paid Trump defender if she really thought the former Secretary of State was tearing down men. Scottie's answer — yup!
"I think she was. What about my son? Does my son from what she said, your daughter can become one as well, I immediately thought what about making it equal so both of them have the opportunity? Why is it that she's going to sit there and put favor on one? I think we have that issue with race. We have that issue with gender. And, yes, while I'm celebrating the fact, yes, she got the nomination, but I think we have to sit there and go beyond that now."
After serving this heaping scoop of derp, fellow panelists Sally Kohn and Michaela Angela Davis attempted to convince Hughes that just because someone tells one particular group something positive and affirming, it doesn't mean that they are specifically trashing other groups. Sorta like how saying Black Lives Matter isn't the same as saying white lives don't matter.
In response to Kohn saying that every single POTUS has been a man until now and that women being excited about Clinton being on the verge of breaking the glass ceiling aren't sexist, Hughes claimed that there is no such thing as a glass ceiling.
"There was never a glass ceiling. If there was a glass ceiling, we ignored it, we put our time into it, we're not here because of a glass ceiling."
And every CNN viewer at home was made just a little bit dumber for having been exposed to that.
Below is video of the segment, courtesy of Raw Story: