Trump Lets His Anti-Semitic Base In On A Secret — Hillary's A Money-Grubbing Jew!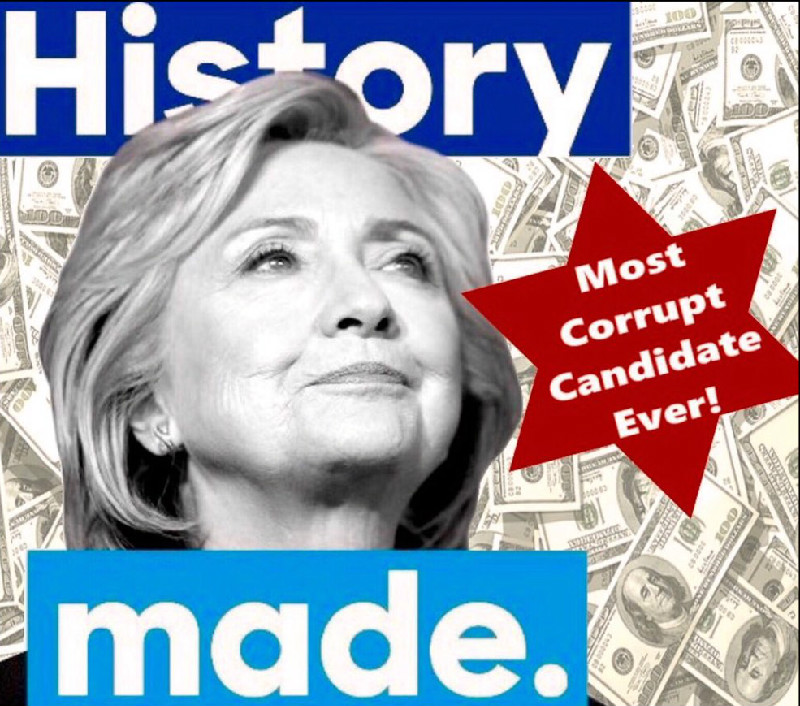 Apparently, Donald Trump's dog whistle was broke on Saturday.
In the middle of shitting out a bunch of grade-A Trumpian tweets, the presumptive Republican nominee sent out the following image with the caption 'Crooked Hillary — Makes History!'
Crooked Hillary – – Makes History! pic.twitter.com/jaqDG7M6dS

— Donald J. Trump (@realDonaldTrump) July 2, 2016
Yeah, there isn't even the hint of subtlety here. You have Hillary being named the "Most Corrupt Candidate Ever!" within a Star of David, all over an image of money. You might as well be yelling 'money-grubbing Jew' at the top of your lungs (or saying she's beholden to the New World Order of banker Jews…take your pick).
Considering a large portion of Trump's base is from the white supremacist/anti-Semitic spectrum of our society, it would be very hard to chalk this up to incompetence or an innocent mistake. The Donald has already shown a propensity for retweeting white nationalists throughout this campaign. And while he eventually disavowed former KKK leader David Duke's support and endorsement, it took him forever to do so, and only after he ridiculously claimed he didn't know who Duke was and acted like he was unfamiliar with white supremacy or the Ku Klux Klan.
Immediately after Trump sent the tweet, people noted that this was indeed louder than a dog whistle and was textbook anti-Semitism.
"Guys, do me a favor. Make that Star of David red instead of yellow so people don't get the wrong idea" https://t.co/Du1Fo39DO5

— Stephen Miller (@redsteeze) July 2, 2016
On 'This Day In Trump Pivots,' Trump tweets out the Star of David over piles of money to say Hillary's corrupt. Wow. pic.twitter.com/N2YRfazdsn

— Josh Jordan (@NumbersMuncher) July 2, 2016
A Star of David over a pile of money, Mr. Trump? THIS is textbook anti-Semitic imagery. #louderthanadogwhistle https://t.co/XXZ5MtfSde

— Marc Lamont Hill (@marclamonthill) July 2, 2016
After Star of David began trending, someone must have told Donald that his call out to his fervent supporters was detected. So what did he do? Delete the original tweet? Nope. He just sent out the exact same one, sans the Star of David while leaving the original one for his fans to enjoy.
Crooked Hillary — Makes History! #ImWithYou #AmericaFirst pic.twitter.com/PKQhYhMmIX

— Donald J. Trump (@realDonaldTrump) July 2, 2016
Feel the pivot!
UPDATE (7/2/2016 11:02 AM CT): Trump has since taken down the original tweet.