Lewandowski's Hard-Hitting Analysis: "Mr. Trump's Best Speech Of The Presidential Cycle"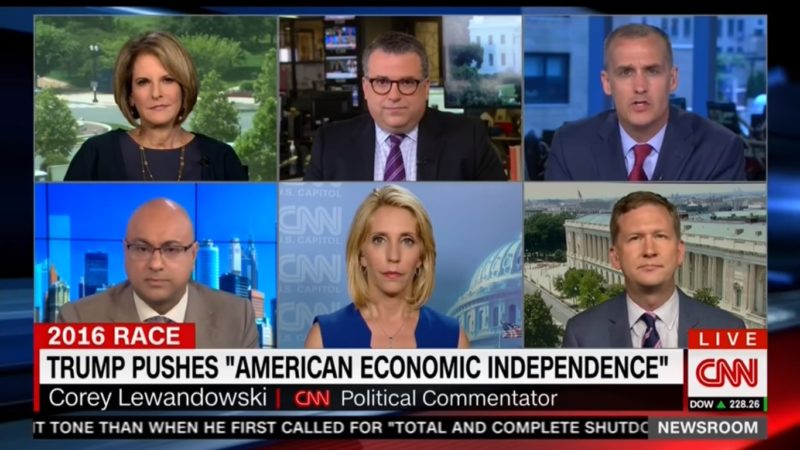 CNN took a whole lotta shit last week when it was announced they had hired Corey Lewandowski to be a political commentator for the network, and rightfully so. Lewandowski, who had just been fired as Donald Trump's campaign manager, has notoriously treated the press like shit in the past, including one of CNN's own reporters. Beyond that, he signed a non-disclosure agreement with Trump, taking away the one big selling point he could offer as a contributor, which is juicy insider details.
Now, he tried to pretend that he'd be 'telling it like it is' and speaking his mind when he appeared with Erin Burnett last week during his first hit with the network as an official employee. Yet, in that spot, and the ones since, he's done nothing but slurp his old boss, making it obvious that he's gonna be nothing more than another paid Trumpkin, a la Jeffrey Lord and Kayleigh McEnany. Thus, giving CNN three full-time contributors who have no other job than to defend Trump.
This took on a new level of absurdity on Tuesday afternoon. Following Trump's BIG speech on trade policy, featuring Trump speaking in front of a literal wall of garbage, Lewandowski was brought on to provide analysis. And analyze he did! Not holding any punches back, he let viewers know that this was "Mr. Trump's best speech of the presidential cycle." Not content with leaving it there, he also mentioned that it "was the best speech of the campaign so far."
So insightful. So honest. So tough. This is what CNN is paying you the big bucks for, Corey.
As Raw Story pointed out, Al Jazeera's Ali Velshi, who was included in the six-box discussion, took umbrage with Lewandowski's uncritical praise of Trump's speech. After highlighting many of the lies Trump had just peddled, Velshi let Corey know just how shitty the address was.
"He wants to pull out of the TPP, which is by the way supported by a majority of Republican congressmen in Congress. If this is the best speech Donald Trump has given, if it's indicative of the type of policy speech he's going to be delivering, we're in for a very boring four or five months. And people who check facts are going to be very, very busy."
Remember, CNN. You did this to yourselves. Maybe you shut cut your losses now before this gets any more embarrassing.