As Dow Plummets And Markets Collapse, Fox News Celebrates Brexit Vote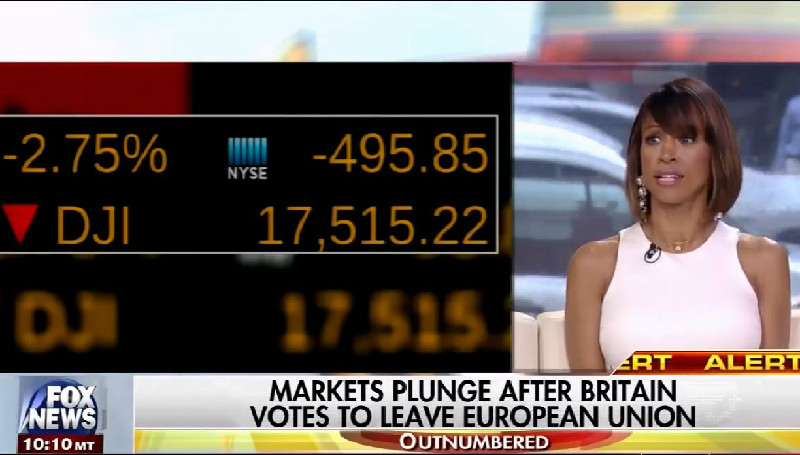 As the Friday lumbered on, markets across the world were in panic over British voters surprising decision to leave the European Union. Betting shops, financial agencies and polling firms had assumed that the Brexit vote would be close, but that sanity would rule the day and the United Kingdom would remain in the EU. Of course, fear and bigotry actually won out, and now Great Britain has seen its Prime Minister retire, and Scotland and Northern Ireland clambering for independence.
While the Dow Jones was plummeting, down around 600 points by mid-afternoon, and UK's currency had cratered, not to mention the sell-offs already witnessed in other world markets, the good people at Fox News were acting like they'd all just found $100 bill under their pillows that morning. Why? Well, they feel like if ignorance and xenophobia can push middle-aged and senior white voters to the polls in England to vote for right-wing nationalism, then maybe Donald Trump really does have a chance to win in November.
On Fox & Friends, the churlish little Trumpbaters were having a grand old time, spelling doom and gloom for Democrats this fall. Boat shoe wearing troglodyte Tucker Carlson could barely hide his erection while speaking to goofy smile maestro Steve Doocy;
"I think this is a very, very ominous sign for the Democrats in the United States, and I don't think I'm overdrawing it. Again, look at what you saw. People voted yesterday, but they didn't tell pollsters how they were going to vote because it was seen as highly unfashionable, and yet they did it anyway. If you're the Trump campaign, I think you take real solace in that."
In other words, ignore any polls that show Trump down. HE'S GONNA WIN!!!
Later on, it was Doocy's turn to give Trump a tug-job, proclaiming the real estate mogul a genius for being in Scotland on the day of the vote. (Mind you, Trump was apparently oblivious to the fact that the Scottish residents voted overwhelmingly to stay in the EU, and are now threatening to secede from Britain.)
"Republican strategists had said 'Donald Trump is out of his mind to leave during this vote.' He shows up. Of course, as we were talking earlier, the polls got it 180 degrees wrong. And suddenly when Trump took the podium there at his golf course in Scotland, he looked like a genius because he had said, you know, 'People should get out.' "
America's least favorite self-righteous Christian, Todd Starnes, took to Twitter to celebrate the vote, and urged Texas to move forward with seceding from the US. (How patriotic of Starnes!)
God bless the British! Best wishes to our friends across the Big Pond! #freedom

— toddstarnes (@toddstarnes) June 24, 2016
Hey Texas — did you see what the British just did? #freedom

— toddstarnes (@toddstarnes) June 24, 2016
On Fox's Outnumbered, former C-lister turned conservative pundit Stacey Dash stated that this was proof that socialism doesn't work — uhh, British voters still want their universal healthcare, and many Leave voters are mad that they may have been lied to during the campaign about improved NHS funding — and that Hillary Clinton best watch out.
"This is, I mean, extraordinary evidence that socialism just does not work. It doesn't work…And I think that this is perfect. This is perfect for us. And if anyone is thinking of voting for Hillary Clinton, they need to look at this and think again."
Reminder: Fox News tries to push Stacey Dash as a legit political commentator. That says everything you need to know about that network.
Anyway, this is just a smidgen of what was, and still is, going on at the Fair & Balanced network. In the meantime, quite a few UK voters are having major regrets over their votes, seeing the turmoil it has immediately caused to the country.