Republican Congressman Whitesplains Sit-Ins To Civil Rights Icon John Lewis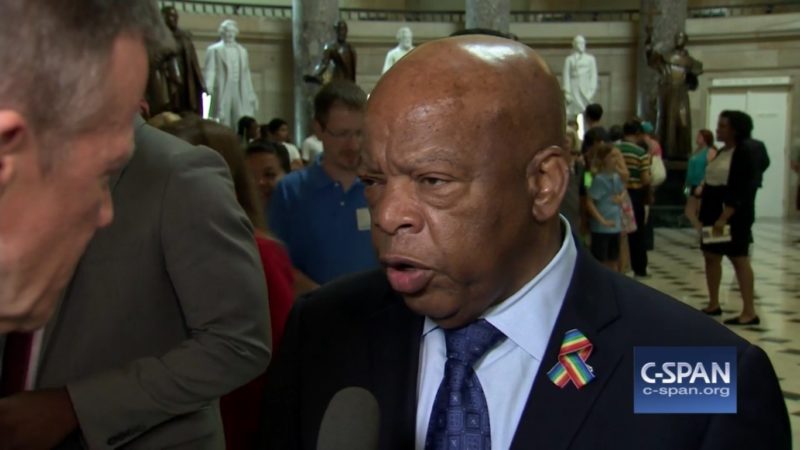 More and more often lately, white Republicans like to turn to the Civil Rights Era of the 1960s to make some kind of convoluted point regarding race or liberalism today. Generally, they tend to invoke Martin Luther King in some way, oftentimes going so far as saying he'd be a Republican today. Other times, they try to chastise the behavior of liberals, typically those protesting, by saying they are crapping all over the legacy of those who REALLY fought for civil rights.
It is this latter tactic that Rep. Mark Walker (R-NC) used on Wednesday to try to shame Democrats over their dramatic sit-in on the House floor. After roughly 40 Congresspeople promised to "occupy the floor of the House until there is action" on a number of gun control measured, Walker sent the following tweet:
Calling this a sit-in is a disgrace to Woolworth's. They sat-in for rights. Dems are "sitting-in" to strip them away https://t.co/uBT0cPqsjT

— Rep. Mark Walker (@RepMarkWalker) June 22, 2016
Take that, you rights-hatin' commies! Why are you pissing all over the legacy of those who fought for equality? WHY?!?!?
'What's that you say? Civil rights icon John Lewis, the guy who got his head cracked at Selma and one of the last living links to that movement, was the leader of this action? Really? Ohhhhhhhh.'
Yeah. The one leading the charge on Wednesday was Lewis. According to NBC News, Lewis said that he felt the need to do something as moments of silence weren't stopping widespread gun violence in this country.
"Sometimes you have to do something out of the ordinary, sometimes you have to make a way out of no way. There comes a time when you have to say something, when you have to make a little noise, when you have to move your feet. This is the time. Now is the time to get in the way. The time to act is now. We will be silent no more."
Members of the Senate eventually came to sit in solidarity with the House Democrats, and both Hillary Clinton and President Obama offered their support. Meanwhile, Speaker of the House Paul Ryan tried to lessen the impact of the moment by demanding that House cameras be shut off, meaning C-SPAN was unable to carry it live. However, the network patched in footage from a Rep's phone who was using Periscope, allowing viewers to watch.
Anyway, good job, Rep. Walker, in preaching to JOHN F'N LEWIS on civil rights and protesting.