Candidate Takes Trumpism To Logical Conclusion With 'Make America White Again' Sign
Sure, we've all joke that Donald Trump's campaign slogan . Make America Great Again' really just means 'Make America White Again,' but nobody thought a political candidate would just openly use that phrase to get elected. That is, until now.
In Tennessee (natch), independent Congressional candidate Rick Tyler erected a campaign billboard in Polk County using that very phrase along with idyllic images of lily-white families. He also put up another sign showing the White House with Confederate flags along with MLK's iconic quote "I have a dream."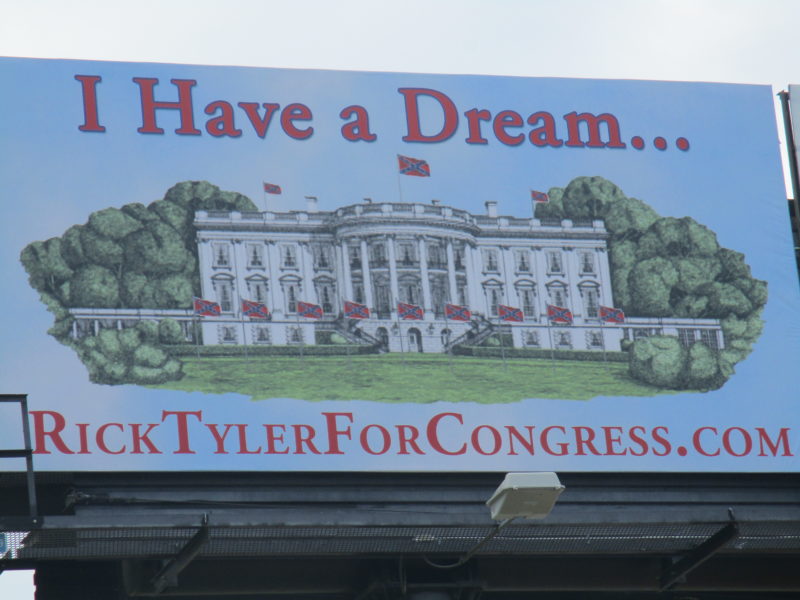 Obviously, there was immediate outcry from residents and businesses after they saw the sign. WCRB, a local TV station, did a story on the billboard, and asked Tyler what the hell he was thinking. Of course, Tyler claimed he had no ill will towards black people, and just wanted to get back to a time when life was like "Ozzie and Harriett" and "Leave It To Beaver." No, seriously, he said that.
Tyler told Channel 3, he has no hatred in his heart for "people of color." He says the sign's message is that America should go back to a "1960s, Ozzie and Harriet, Leave it to Beaver time when there were no break-ins; no violent crime; no mass immigration."
WCRB pointed out that they received numerous calls and emails from residents, saying the sign did not reflect their feelings. In response, Tyler said he was pretty sure everyone loved it because he saw folks taking pictures with it.
Tyler said, "I respect their right to have an opinion. I believe the majority of the people in the county like it."
"I saw people taking pictures beside it right after I posted it," added Tyler.
Well, that really didn't seem to be the case at all. According to Raw Story, the sign is now down after citizens and businesses decided to hit Tyler where it hurt — in his pocketbook. Apparently, the man owns a restaurant, and local residents requested a boycott of his establishment.
But after the Kiwanis of Ocoee and others joined the boycott of Tyler's restaurant, the "Make American White Again" billboard mysteriously disappeared.
"THE SIGN IS OFFICIALLY DOWN!!!" Amy Hines Woody reported in a Facebook update. "Never should have been there in the first place, but at least it's gone."
It was not immediately clear if Tyler had completely abandoned his "billboard strategy."
The thing is, Tyler, as an independent candidate, realized that the way to gain attention is through blatant racism, bigotry and sensationalism. He learned that from watching Trump this past year. The Orange One has gained a loyal following by letting his supporters let their prejudices out in the open without fear of reprisal, all by saying he's just not politically correct.
It was only a matter of time before some prospective candidate decided to drill down on the message and tear away any subtlety.