John Kasich Almost, Sorta, Kinda Says That He Will Not Support Donald Trump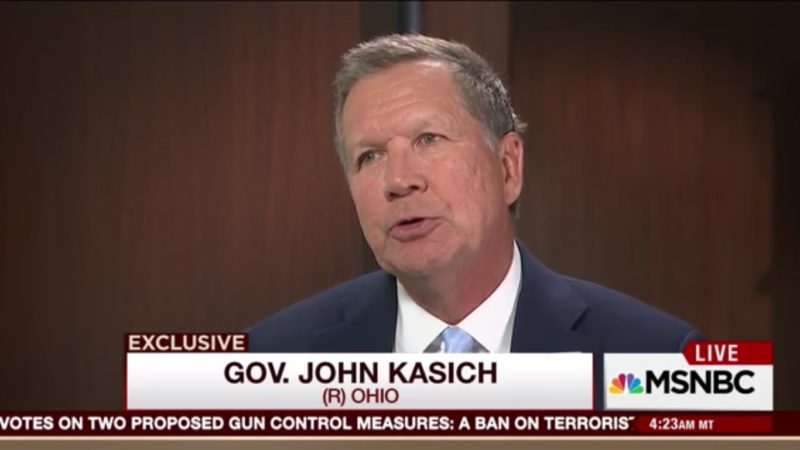 Republican Governor of Ohio and one-time potential 'moderate' savior of the GOP John Kasich was the focal point of Thursday's broadcast of Morning Joe, as he sat down for an interview with host Joe Scarborough. The former White House hopeful, who suspended his campaign earlier this year after only winning his home state, got a little pissy at times with JoeScar, specifically when it came to his party's presumptive nominee.
Sitting across from Kasich, Scarborough pulled out the loyalty pledge that all of this year's GOP candidates signed, promising that they'd eventually support the party's nominee. After some hemming and hawing, Kasich said the following regarding whether he'd hold true to that pledge.
"You know, it's painful. It's painful. You know, people even get divorces, you know? I mean, sometimes, things come out that, look, I'm sorry that this has happened. But we'll see where it ends up. I'm not making any final decision yet, but at this point, I just can't do it."
Later on, Joe tried to get Kasich to give his opinions on whether or not Paul Ryan or Mitch McConnell should pull back their support and endorsements of Donald Trump. He basically said that's up to them. When asked how he would act in their shoes, he said he didn't know what he'd do.
However, he still left the door open for possibly getting behind Trump if he can somehow change and pivot. Which is, of course, what every fucking Republican keeps saying. "If only he'll grow, mature, act more presidential…I can then feel comfortable embracing him, despite all the stupid shit he's done for a year on the campaign trail. Just read from a teleprompter, stop late-night tweeting, stop saying racist shit, and stop routinely calling for the deportation of 11 million people and the banning of 1.6 billion from entering. Then we'll be cool!"
John Kasich, Man of Principle!
Below is video of the segment, courtesy of MSNBC:
.@JohnKasich gives @JoeNBC his take on Trump and the GOP https://t.co/tqeyPdZqXD

— Morning Joe (@Morning_Joe) June 16, 2016