You'll Never, Ever, EVER Guess Who Paul Ryan Is Voting For This November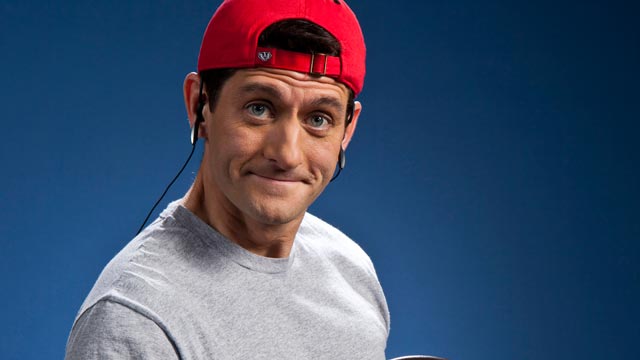 Paul Ryan announced in an op-ed Thursday afternoon that he was voting for Donald Trump this November. This comes as absolutely no surprise to anyone, as most everyone already figured that Ryan was a craven opportunist with no real cores or principles. Sure, he'll talk a good game, but when push comes to shove, he'll do what all other Republicans are doing.
I'll be voting for @realDonaldTrump this fall. I'm confident he will help turn the House GOP's agenda into laws. https://t.co/LyaT16khJw

— Paul Ryan (@PRyan) June 2, 2016
Anyway, this allows Ryan to finally drop the charade that he was struggling with this decision. He gets to stop pretending that he needed to know more about Trump. He now gets to be part of the in crowd of GOP lapdogs who are going to ride Trump to their party's destruction.
There's nothing really else to this story, as this was all inevitable. So, just to pad it out, here are some nice Twitter reax:
Breaking news: Paul Ryan says he will vote for Trump. Sometimes a news story just makes you feel tingly all over.

— Albert Brooks (@AlbertBrooks) June 2, 2016
Paul Ryan: When being over 40 and wearing a ball cap backwards is STILL never the doucheiest thing you do all day. pic.twitter.com/aHWT8qvrnk

— Mrs. Betty Bowers (@BettyBowers) June 2, 2016
Henceforth, he will be known as: Donald Trump endorser Paul Ryan.

— Matt O'Brien (@ObsoleteDogma) June 2, 2016
Paul Ryan pretended to have character for all of 5 seconds. What a quality guy.

— Kaivan Shroff (@KaivanShroff) June 2, 2016
Memo to Paul Ryan: when the boat's sinking, you're supposed to bail water OUT of it … but I admire your your bold "put more water in" plan

— Wil Wheaton (@wilw) June 2, 2016
Donald Trump got Paul Ryan's endorsement without needing to change his policy positions or his tone. It's Trump's party alright.

— Taniel (@Taniel) June 2, 2016
Here's what some people got wrong about Paul Ryan https://t.co/MxQTWanVHi

— Matthew Yglesias (@mattyglesias) June 2, 2016
Paul Ryan right now pic.twitter.com/ZqstJZK2hm

— Mathew Ingram (@mathewi) June 2, 2016