Fox's Stuart Varney Cheers EgyptAir Crash Because It Could Be Good News For Trump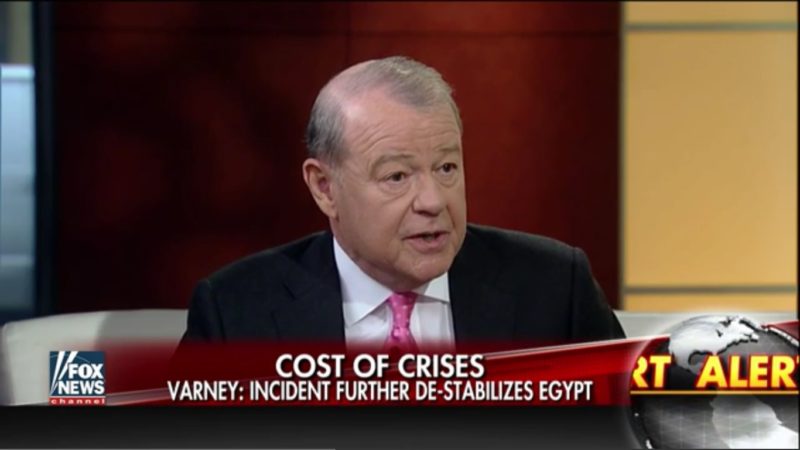 Every time you think Fox News can't sink any lower, they make sure you know that they're continually on the search for rock bottom, and pull out something even more disgusting.
On Thursday morning, shortly after news that an EgyptAir plane had crashed on the way to Cairo, killing 56 passengers and 10 crew members, Fox Business host Stuart Varney showed up on Fox & Friends to give his 'expert' analysis. Of course, what that really meant was making sure everyone knew that this was the result of Islamic terrorism and that Muslim ban suggester Donald Trump would surely benefit from this news. (As of this writing, the cause of the crash has yet to be determined, though experts suspect a bomb.)
Below is transcript of the conversation, courtesy of Media Matters:
STEVE DOOCY (CO-HOST): Explain this regarding the refugees.
STUART VARNEY: I think this destabilizes Egypt even more. It's already on shaky ground economically and politically. An incident like this further destabilizes it, which I think this will encourage the refugee crisis. That's already hitting Europe. I think that gets worse with every incident of this type. Remember, Egypt is just right across the Mediterranean Sea from southern Europe. Just like Libya, just like the other countries of North Africa. If you destabilize that whole economy, and I think this will, you further put pressure on more refugees to leave in their boats and get across the European — across the Mediterranean.
[…]
AINSLEY EARHARDT: Yeah, I was hearing this morning that security is so tight now in Paris after recent attacks, because it has affected their government and their economy there. They can't afford for things like this to happen.
VARNEY: It destabilizes the whole security position in Europe. This plane took off from Charles de Gaulle Airport in Paris. I don't know where it was before then, I think it was in Brussels before then and Casablanca. But the whole idea of the secure European airport is thrown into doubt by incidents of this kind. I also think that this may be good politically for Donald Trump.
EARHARDT: Why?
VARNEY: He's already tweeted out saying this is probably terrorism, I believe that's the nature of his tweet. He's the guy who's saying, hands off, keep Muslims out, temporarily, whilst we figure out who comes in. An incident of this type is surely a plus for Donald Trump.
Varney was talking about this tweet from Trump, which was so cynical and obvious in its intent that it immediately was criticized by normal human beings.
Looks like yet another terrorist attack. Airplane departed from Paris. When will we get tough, smart and vigilant? Great hate and sickness!

— Donald J. Trump (@realDonaldTrump) May 19, 2016
The sad thing here is that Fox is so in the tank for Trump that every single tragedy, especially if it possibly involves terrorism, has to be discussed within the prism of "How does this help Daddy?" And that is exactly what Varney and the curvy couch sitters did on Thursday morning. And it is why they can go fuck themselves.