Chuck Todd Gives Cruz The Hard Truth: "Republican Voters Are The Ones Rejecting You!"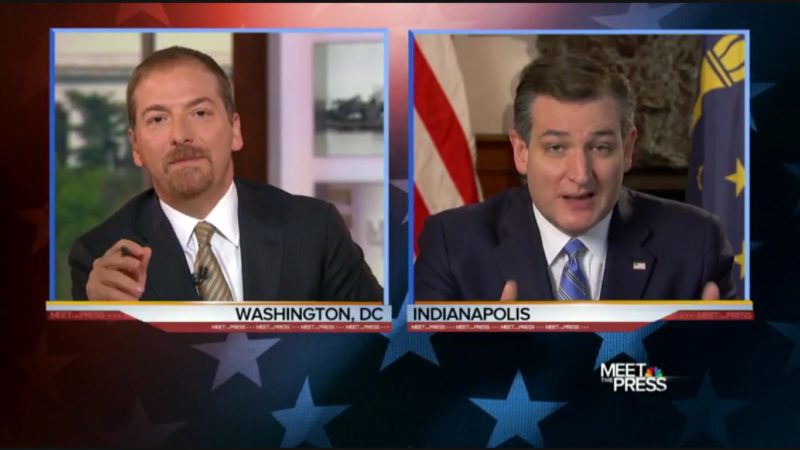 Every now and then, Meet the Press host and Both Sides Do It ™ adherent Chuck Todd stumbles into some journalistic chops and actually presses someone's feet to the fire. That rare moment happened on Sunday with man suit wearing lizard Ted Cruz.
In a lengthy interview, the GOP candidate tossed out his favorite talking points, and for the most part, was able to navigate the waters without much issue. However, in the final few minutes, Todd started to press Cruz on the likelihood of his losing the Republican nomination to Donald Trump and whether or not he would support or endorse Trump when he drops out.
Cruz, in his typically sleazy way, kept pivoting and obfuscating. And while this worked when he was tossing out untruths and bullshit about policy positions and transgender bathroom laws, Todd decided that this was the hill he was going to defend. Every time Cruz gave a non-answer, Chuck pushed back, trying with all of his might to get a straight response from the wax-faced snake oil salesman.
At one point, things got pretty testy when Cruz tried to blame the media's obsession with Trump on why Cruz is not winning the race. After he stated that the celebrity billionaire has received $2 billion worth of free media in his campaign, Todd responded that this isn't a media conspiracy that he isn't winning. Why? Because "Republican voters are the ones rejecting" Cruz, not the media!
After that, all we got was Cruz blaming all the liberals in the media for making things tough on him. See, in Cruz's mind, every single person working in news media is a far-left partisan, and they are just scared of his strong conservatism.
You know, we often talk about Trump being a whiny crybaby who will say and do anything to avoid responsibility for his actions and words. But Ted Cruz is even worse than him on this level. Everything is the liberal media's fault, the Washington cartel's fault, Barack Obama's fault, political correctness's fault. It is always blame, blame, blame…whine, whine, whine.
Below is video of the entire interview, courtesy of NBC News: