Joe Scarborough And Mika Brzezinski Can't Contain Their Giddiness Over Trump's Primary Wins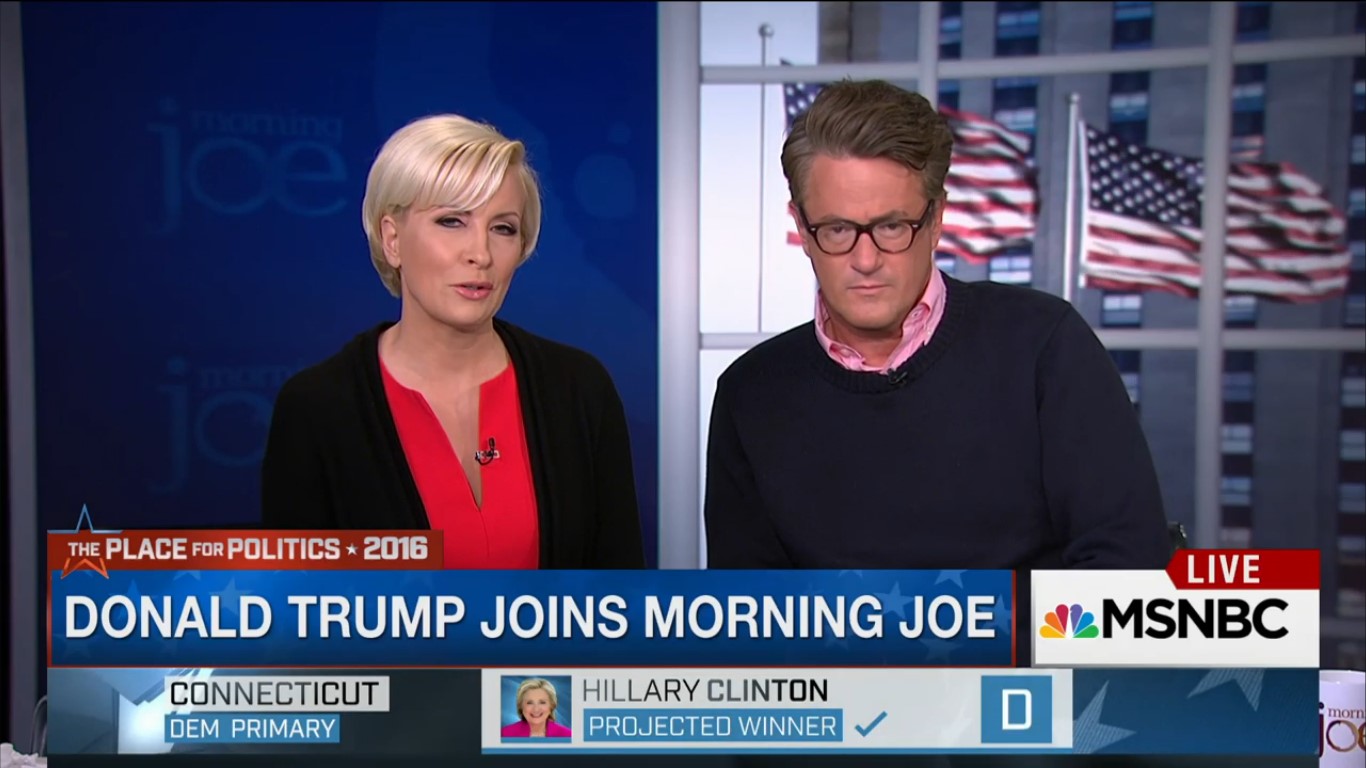 After presumptive GOP Presidential nominee Donald Trump dominated in five northeast primaries on Tuesday night — something that was fairly predictable based on polling — it was a given that the following morning would consist of ALL TRUMP on the cable and broadcast news shows. And Trump we got, as four morning programs allowed the rancid ball of sweat and cat hair to call in for interviews, something networks had said they'd be cutting back on.
But, the worst of the lot was, unsurprisingly, Morning Joe. The entire program was essentially a dedication to both the Orange One, and the visionary brilliance of one Joe Scarborough, who is the only one in the entire universe who had the foresight and smarty smarts to realize that Trump could go all the way. And he made that point abundantly clear on Wednesday morning, as he hyped his Washington Post column calling out all of the media and political elites for bashing Trump (apparently Joe is not an elite), and then going off on a trademark JoeScar tirade about how right he was all along.
While speaking/shouting to Morning Joe regular Mike Barnicle, Scarborough made the following declaration:
"I hate to say it. We were right, everybody else was wrong. Everybody else was stupid, and they were wrong every single day. We were right…Oh, you're in the tank for Trump! How about this, let's put this on a bumper sticker. We're in the tank for truth."
But that was all just the warmup act to the main event — a phone interview with Daddy. Joe and Mika Brzezinski dedicated 20 or so minutes to their conversation with Trump. The giddiness displayed by the two hosts during the 'interview' was nauseating, to say the least, but expected. Mika wanted to know if Trump was still in bed and wearing his pajamas. Joe insisted to the celebrity billionaire that he never gave him a hard time. It was all just a bit much, even for the low expectations we've set for the post-Trump Morning Joe.
The National Review's Jonah Goldberg noticed the attitude on set Wednesday morning and made the following observation:
The giddiness on #MorningJoe is really hard to square with @JoeNBC's insistence he's not carrying water for Trump.

— Jonah Goldberg (@JonahNRO) April 27, 2016
This led to another pundit asking a very pertinent question regarding Scarborough's take on the Trump campaign:
@JonahNRO Didn't he say Trump's answer on Duke and the KKK a few months back was disqualifying?

— Allahpundit (@allahpundit) April 27, 2016
Ahh, yes. The thing that Joe always points to whenever people call him out for his over-the-top embrace of all things Trump. "Hey, I said Trump disqualified himself by not disavowing the KKK and David Duke," Joe would say anytime someone gave him crap for being in the tank for The Donald. But then, we get episodes like this, wherein he just can't help himself, especially when it seems the likelihood of getting a Cabinet spot or some other goodies from a President Trump seem closer and closer to reality.
Anyway, below is video of the entire Morning Joe interview with Fuckface Von Clownstick, if you feel like torturing yourself: