'Meet The Press' Won't Let Trump Phone In Interviews Anymore. Will Other Shows Follow Suit?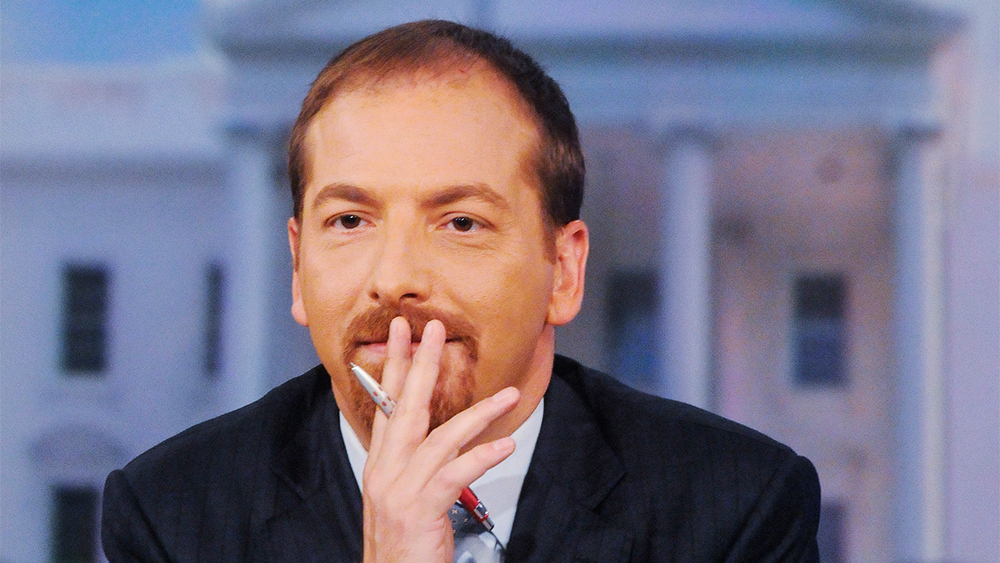 In a piece by Jim Ruttenberg that was published Sunday by the New York Times, Meet the Press host Chuck Todd revealed that he had decided that he would no longer let Republican Presidential frontrunner and Grumpy Cat impersonator Donald Trump call into the show. Instead, if Trump wants to be interviewed and featured on the program, he will have to appear either in studio or via remote camera. No more phone interviews, which are extremely difficult for hosts to moderate and control while
This is a notable change from how Todd had treated Trump earlier in the campaign. Todd, like most other Sunday show hosts, had allowed the celebrity billionaire to do what he pleased and break from the programs' traditional format. Generally, if a candidate or politician appeared on one of the talk shows, they actually had to confront the moderator face-to-face. Phone calls were only acceptable in cases of breaking news, not chatting about one's poll numbers.
Yet, that all changed with Trump, as the networks' producers and execs saw ratings gold with the former reality TV star running an unpredictable campaign based on promises of building walls to keep out raping Mexicans. So, they gave him preferential treatment to go along with all the free media he was receiving. Now, with all the networks and media outlets receiving harsh criticism over the way they've covered the xenophobic billionaire these past few months, it appears some are realizing they need to start doing their jobs as news organizations.
As Ruttenberg pointed out, Todd isn't alone in making this "course correction." Fox News' Chris Wallace has long refused Trump's requests to call into the program. CNN is saying they will perhaps stop giving Trump's rallies and press conferences live coverage, especially if they devolve into advertisements for his products.
Then there are the Sunday morning public affairs programs. For decades they have served as proving grounds where candidates must show up on camera, ideally in person, to handle questions without aides slipping them notes, their facial reactions and body language on full display. It's why the programs were named "Face the Nation" and "Meet the Press" — not "Call the Nation" or "Phone the Press."
And yet, as the campaign began in earnest, all of the shows went along with Mr. Trump's insistence that he "appear" by phone — all except one, "Fox News Sunday With Chris Wallace."
"I just thought even if we took a ratings hit — and to some degree we did — it was a line worth holding," Mr. Wallace told me.
On Friday, Chuck Todd, the moderator of "Meet the Press," told me he had only grudgingly allowed Mr. Trump to call in to his show earlier in the campaign, determining that he would rather have Mr. Trump take questions via phone than not at all.
Now, Mr. Todd said, he will no longer allow Mr. Trump to do prescheduled interviews by phone on the NBC program. And CNN told me it would think twice before giving full coverage to a Trump news conference that devolves into an infomercial.
I thought I might be witnessing a midcampaign course correction. But then I tuned in to "This Week With George Stephanopoulos" on ABC and there was Mr. Trump, or, that is, his disembodied voice.
Yes, it was disappointing to see George Stephanopoulos let Trump do a phone interview on This Week. But maybe, just maybe, we'll see this become more and more the exception. As Fox News' Megyn Kelly has shown, you don't need Trump to appear for your show to do well in the ratings. For the past eight months, The Donald has engaged in a one-sided feud with the Fox anchor, mean-tweeting her and calling for a boycott of her show.
Meanwhile, The Kelly File is the second-highest rated show in cable news, and has not seen any slippage these past few months, despite Trump never appearing once on her program. She even pointed this out last week while speaking to Jorge Ramos, who had criticized her colleagues for their embarrassingly soft interviews of the real estate mogul.
The fact is, the networks really don't need to interview him anymore. With the election season in full swing, the ratings for cable news are already there. People will tune in for news coverage, opinion and commentary, and they don't need to hear Trump say the same things he's said a million times already. The story is now the election and Trump's impact on it. You can report on it without getting his personal input every single day.