Fox's Chris Wallace Berates Kasich For Not Calling Undocumented Immigrants Criminals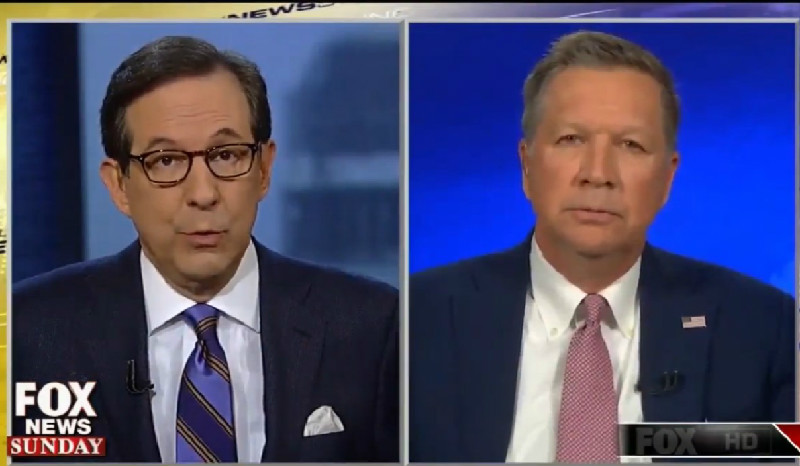 On Sunday, Republican Presidential candidate John Kasich appeared on Fox News Sunday to discuss his longshot campaign and why he is staying in the race despite not having any mathematical chance to receive a majority of the GOP delegates before the convention. Besides having to defend his decision to remain in the race while also declining a chance at primetime coverage when he dropped out of a proposed debate, Kasich also had to deal with host Chris Wallace berating him for his immigration stance.
See, Wallace wanted to know how Kasich could justify not calling those in the country illegally "criminals," as technically they have broken the law by being here without documentation. Wallace also seemed to take offense that Kasich would actually call immigrants "good people," which seems pretty heartless, except we are talking about Fox here.
WALLACE: Well, let me ask you about a specific question in the time we have remaining. I want to explore your position on people in this country illegally. You have called them a critical part of our society. You've called them good people. They're not criminals?
KASICH: Well, look, Chris, what I've said is that, you know, look, Ronald Reagan tried to fix this whole thing in 1986. And it didn't work because we didn't finish the border. I think we need to finish the border. And once it's finished, people cannot sneak in. They shouldn't sneak in now. They've got to sent – be sent home.
We should have a guest worker program. And for the 11.5 million who are here illegally, if they've not committed a crime since they've been here, I would give them a path to legalization where they pay a fine, back taxes, delay in any kind of benefits they get. I think is a reasonable approach, but not a path to citizenship.
My position has not changed. The idea that we're going to go into communities and yank people out of their homes and leave their kids on the porch crying, that's not what we're going to do. That's – that's just – that's more promises that will never happen and the people will become more cynical. I don't make promises, by and large, that I can't keep. I try to keep what I say. And I – I'm not deviated from this position at all.
Wallace doesn't want to hear any of that hippy-dippy bullshit, John. You know what you are calling for? That's right, amnesty!
WALLACE:  But you know what Ted Cruz calls that? He calls it amnesty.
KASICH: He can call it anything he wants to, I'm just telling you my position and I believe that position will be accepted by the American people and that position can pass the Congress. I lay this out in every town hall meeting. If somebody asks me, I tell them.
Finally, Chris let the Ohio Guv know that they only had a little time left, but he wanted to make sure that Kasich knew that those people were in this country illegally. Therefore, they were criminals, and he was proposing they stay because he doesn't love America.
WALLACE: In the 30 seconds we have left, sir, what about the argument they did break the law, they came into this country illegally –
KASICH: Yes, they did.
WALLACE: And – and you're letting them basically be able to stay in the country despite that.
And we wonder how we got to the point where the Republican Party's likely nominee is a guy who wants to build a wall around the country, ban all Muslims from entering and calls Mexicans rapists and criminals. This is how we got here.