RNC Spokesman Claims Trump Was Only Speaking Figuratively About Riots At GOP Convention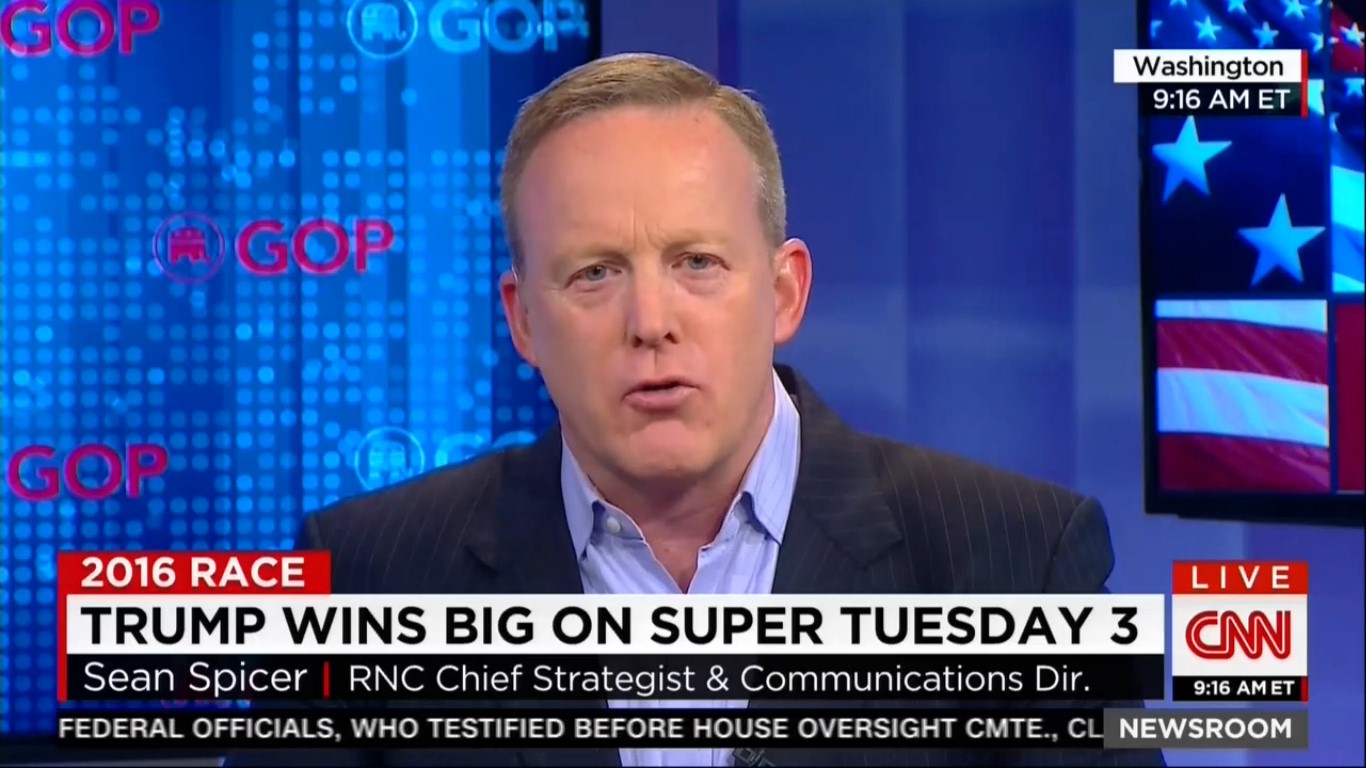 Following up a very good night where he picked up three (potentially four) more primary wins and knocked Marco Rubio out of the race, GOP Presidential frontrunner Donald Trump hit the cable news circuit on Wednesday morning to gloat over his victories. During his appearance on CNN's New Day, he told host Chris Cuomo that if he doesn't reach the 1237 delegates needed to secure the nomination and it goes to a contested convention, that there would be riots if he weren't selected the nominee.
Later on in the morning, CNN's Carol Costello asked Republican National Committee spokesman Sean Spicer to comment on Trump's remarks and if he was concerned about violence breaking out at the convention. Of course, because the RNC has pretended that everything is ABSOLUTELY FINE and they are thrilled with how the process has gone, Spicer contended that there were no issues. In fact, he is positive that Trump didn't even mean it.
"Well first of all, I assume he's speaking figuratively. I think if we go into a convention, whoever gets 1,237 delegates becomes the nominee. It's plain and simple."
Costello informed Spicer of Trump's actual comments, letting him know that he wasn't, in fact, speaking figuratively, but was instead saying people will riot if he isn't the nominee.
In response, Spicer did what all good Republicans do when confronted with facts — blame liberals. He claimed that it was only the left that is interested in rioting and are the ones causing all the issues at Trump rallies. Therefore, no need to worry this summer since GOP voters are well-behaved, God-fearing, white folks who don't take part in that kinda behavior.
"It's the left, and the people on the left that have disrupted events are trying to go in and undermine people's First Amendment rights…I think Republicans will have a very orderly process. We'll vote in the open. The delegates that are elected by the Republican voters will go to Cleveland. If we get to a point where there needs to be more than one ballot, we'll do it in a very orderly and transparent way. And we will pick a nominee and go on and win in November. But I feel very good about how we're going to run our convention. I think it will be very open, I think it will be very transparent, and we will do it in a very democratic way. We won't use a bunch of superdelegates to stack an elite front-runner as our nominee."
While Trump uses a flamethrower on their party, torching it to the ground, the GOP 'establishment' continues to play its fiddle, blissfully gazing upon the charred remains of the Party of Lincoln.
Below is video of the segment, courtesy of Politico: