Morning Joe's Mika Brzezinski Says Trump Critics Suffer From "Trump Derangement Syndrome"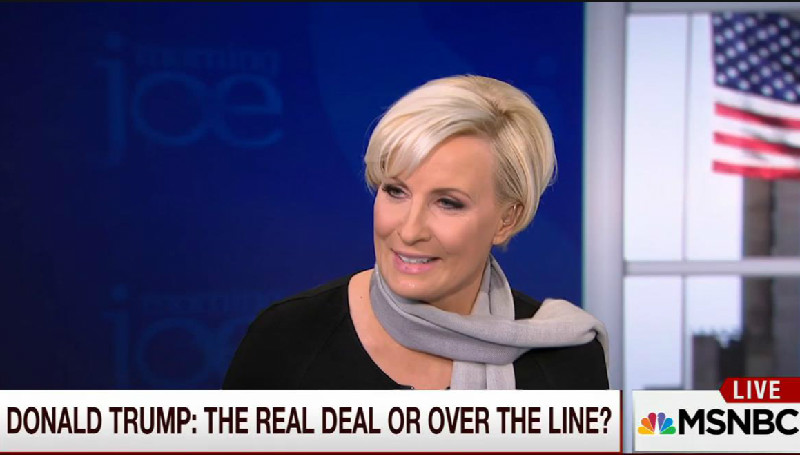 On Monday morning, Morning Joe co-host Mika Brzezinski had to do most of the heavy-lifting for GOP Presidential frontrunner Donald Trump as her cohort, Joe Scarborough, wasn't feeling well. While much of the program was dedicated to remembering Nancy Reagan and discussion of Sunday night's Democratic debate, we were 'treated' to a number of Trump-centric segments.
One such segment was a roundtable discussion featuring the New York Times' Anand Giridharadas, Commentary Magazine's John Podhoretz and former Bush staffer Mark McKinnon. Podhoretz has been vocally critical of Trump for months, which came into play during this panel conversation. Mika, moderating the panel, started off the segment by engaging Giridharadas on his recent assertions that Trump is taking advantage of the naturally boring nature of politics, and that he's distinguished himself by being interesting, regardless of how he's done it.
Podhoretz joined in at that point. While he agreed with most of his colleague's points, specifically that the former reality TV star was taking advantage of social media and boorish tactics to gain attention, he argues that the extremely crowded GOP field at the beginning of the campaign helped lead to the Trump phenomenon. Essentially, because there were 17 candidates at one point, Trump's immaturity and outlandish behavior elevated him in a way that wouldn't have occurred if it was just a handful of hopefuls running. He then highlighted how Trump's popularity among Republicans has seemed to suffer over the past couple of weeks as the field has winnowed.
As Podhoretz continued to make the case that Trump might just be an anomaly due to the nature of this election, and that the further he goes, the less likely he can continue his successes due to their being less of an appetite for his boorishness, Mika started chiming in with a defense of The Donald. Noting that Podhoretz was not a fan of the celebrity billionaire, she stated that Trump had won over a significant segment of voters. She also claimed that many, if not most, of those voters weren't bigoted white folks, but that he was appealing to a wide cross-section of America.
Eventually, Mika went after Podhoretz's obvious dislike of Trump, and apparently wanted to get him to accept that the boorish real estate mogul was someone who should be respected and admired. She pointed to his success so far in the GOP primary, and his winning over of Republican voters, as proof that Trump and his positions should be taken seriously. After some more back and forth with Podhoretz, Brzezinski flatly told him that he needed to get over his "Trump Derangement Syndrome," mostly because he feels that the Republican candidate is "disgusting and nauseating" and may have already destroyed the GOP. (She also defended Trump's idiotic policy positions, saying they are just like "opening bids on real estate.)
We keep hearing from Joe and Mika that they are absolutely not in Trump's pocket. That they aren't carrying his water. That they aren't in the tank for him. And every single day, we see segments like this on their show, or are presented with leaked audio or voicemails showing how chummy they are with him, or provided with reports of them hanging out in his hotel room. Sorry, but the proof is in the pudding.
Below is video of the segment, courtesy of MSNBC: