Donald Trump: I Don't Know Anything About David Duke, The KKK Or White Supremacy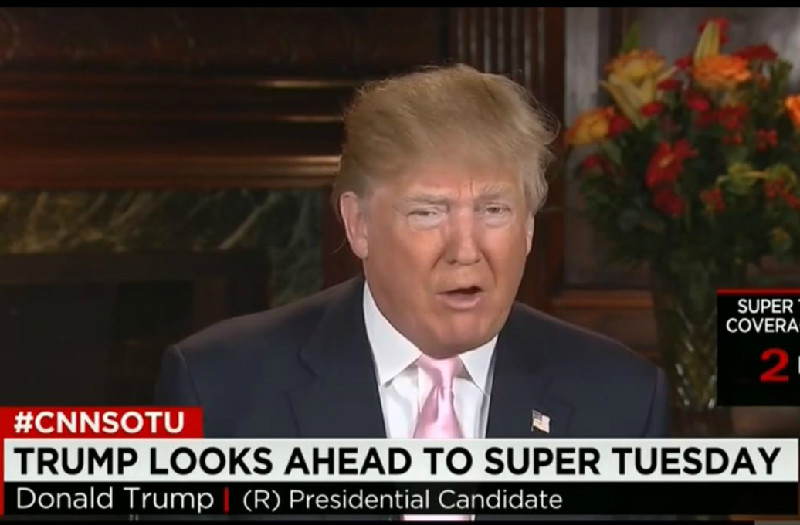 A day after, once again, retweeting a white supremacist (at least the fourth time he's done that) and the same morning he was duped into retweeting a Mussolini quote, GOP Presidential frontrunner Donald Trump showed up on CNN's State of the Union to talk about how amazing he is. During the interview, host Jake Tapper gave the celebrity billionaire an opportunity to condemn and distance himself from the support he's been receiving from white nationalists, specifically former KKK Grand Wizard David Duke.
Of course, in typical Trump form, and likely because he knows much of his support comes from unreformed racists, he feigned ignorance when it came to Duke and the Ku Klux Klan. Yes. Donald Trump pretended like he knew nothing about Duke, the KKK or even the term white supremacy.
Below is from Media Matter's transcript of the conversation:
JAKE TAPPER (HOST): I want to ask you about the Anti-Defamation League, which this week called on you to publicly condemn unequivocally the racism of former KKK Grand Wizard David Duke, who recently said that voting against you at this point would be treason to your heritage. Will you unequivocally condemn David Duke and say that you don't want his vote or that of other white supremacists in this election?
DONALD TRUMP: Well just so you understand, I don't know anything about David Duke, OK? I don't know anything about what you're even talking about with white supremacy or white supremacists. So, I don't know. I don't know, did he endorse me, or what's going on? Because, you know, I know nothing about David Duke. I know nothing about white supremacists. And so you're asking me a question that I'm supposed to be talking about people that I know nothing about.
TAPPER: But I guess the question from the Anti-Defamation League is even if you don't know about their endorsement there are these groups and individuals endorsing you, would you just say unequivocally you condemn them and you don't want their support?
TRUMP: Well I have to look at the group. I don't know what group you are talking about, you wouldn't want me to condemn a group that I know nothing about; I'd have to look. If you would send me a list of the groups, I will do research on them and certainly I would disavow if I thought there was something wrong, but —
TAPPER: The Ku Klux Klan?
TRUMP: — you may have groups in there that are totally fine and it would be very unfair. So give me a list of the groups, and I'll let you know.
TAPPER: OK, I mean I'm just talking about David Duke and the Ku Klux Klan here, but —
TRUMP: I don't know any — honestly I don't know David Duke. I don't believe I've ever met him. I'm pretty sure I didn't meet him, and I just don't know anything about him.
Wow. I mean, Tapper gave Trump three opportunities to do one of the easiest things a modern-day politician can do — disavow the KKK. And yet, Trump refused to do so, acting as if he doesn't know who Duke is while also saying that there might be some good groups mixed up with the KKK and Duke and he doesn't want to be "unfair". This is real life, people. This is actually happening.
Sadly, Tapper wasn't prepared to call Trump out on his bullshit regarding Duke. As Gawker pointed out shortly after the interview aired, Trump actually denounced Duke in 2000 to the New York Times. At that time, he referred to Duke as a "Klansman" and was disassociating himself from the Reform Party because it had accepted Duke. (He also denigrated Reform Party member Pat Buchanan, calling him a "neo-Nazi. Buchanan is now a Trump supporter.)
Gawker also pointed out that Trump said he disavowed Duke during the press conference when Chris Christie endorsed him. Yep. Two days after telling reporters he didn't want the ex-KKK leader's support, he told Tapper that he didn't know who he is. And, because this is Donald J. Trump, patron saint of white resentment, he will get away with it with no concern about losing any of his supporters.
Below is video of the segment, courtesy of Media Matters: